Amazon kicks off textbook rental program for students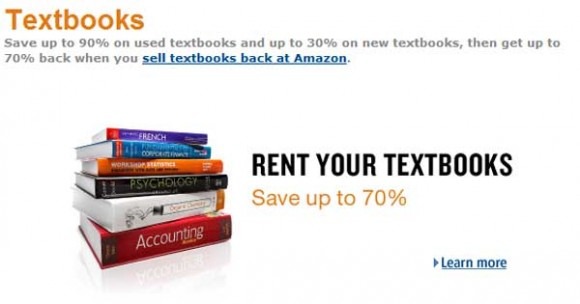 We may receive a commission on purchases made from links.
Amazon has announced that it is kicking off a new program that allows students to rent textbooks rather than purchasing new or used at their local college bookstore. Amazon is promising some significant discounts on the textbooks with up to 70% off on rentals, up to 90% off on used textbooks, and 30% off on all new books. Anyone who's been the college knows that textbooks are very expensive.
Textbooks offered in the new rental program are rented for the entire semester. Amazon has a search function that students use to find a book they need, and then you click a "rent now" option and choose the shipping and payment terms. All the rental textbooks are fulfilled by Amazon and are eligible for free super saver shipping on orders over $25 and Prime members get free two-day shipping.
Once the semester is over Amazon covers the return shipping with a prepaid shipping label. The search functionality for textbooks allows students to easily find what they need with a search by title, by author, or by ISBN number. Available categories cover just about any class a student may be taking from Apple to foreign language and mathematics.
The semester rental period according to Amazon spans 130 days. Students who find they need the book longer than the rental period can extend the rental by 15 days or for an additional semester at an additional cost. Textbooks can also be converted from rental to purchase at any time. Amazon says that students who rent books may receive a new or used book depending on availability. One thing worth noting is that Amazon wants people to limit writing in the book and highlighting to a "minimal amount." If you return a book, and Amazon deems highlighting excessive you will be charged full price minus any rental fees paid.