Amazon Instant Video for iPad takes media mobile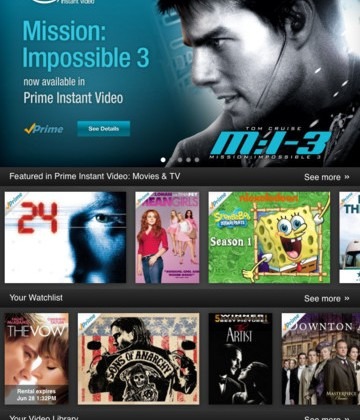 Amazon's Instant Video app for iPad has arrived in the App Store, offering subscribers to Amazon Prime a way to stream content as well as download it for offline viewing. The app, a free download though membership in Amazon Prime – currently $79 per year – is required for streaming, also supports rented and purchased digital content such as movies and TV shows.
There's also support for Season Pass, with episodes of TV shows automatically arriving on your iPad the morning after they air. Amazon currently has over 120,000 videos to buy, and "thousands" through Prime Instant Video, with Whispersync used to synchronize downloaded content between the new iPad app, Kindle Fire, PC, Mac, PS3 or smart TV.
A watchlist for potentially interesting titles is supported, and can also be maintained on different platforms. So, you can see a movie you might like while at work and add it to the watchlist from your browser, with it arriving on your iPad to check out when you're back home.
Unfortunately, Amazon isn't supporting full AirPlay streaming with the app, which means no renting or purchasing a movie on the iPad and then wirelessly playing it back via an Apple TV. Whether that's something that will be added in future is unclear.
You can download the new Amazon Instant Video app for iPad here [iTunes link]