Amazon Fire TV Recast Review: Easy cord-cutting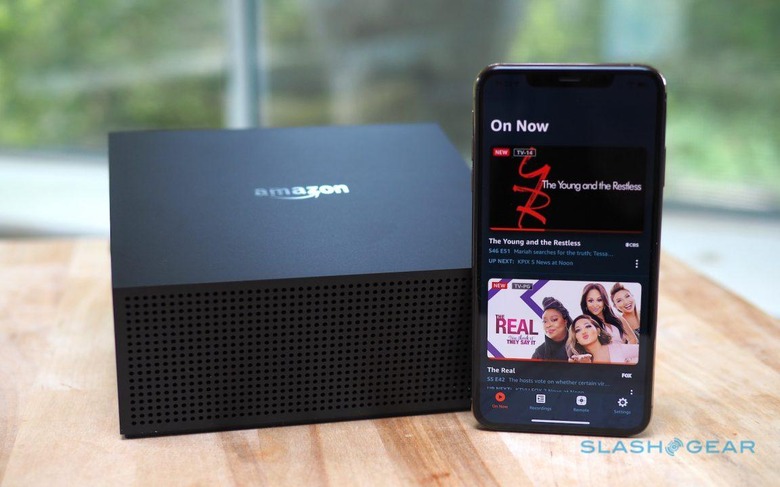 We may receive a commission on purchases made from links.
Amazon's Fire TV Recast isn't just a DVR for cord-cutters, it actually cuts any physical connection between the set-top box and your TV itself. Instead, the newest addition to the Fire TV line offers up a wealth of free, over-the-air channels and the storage to record them, then beams that wirelessly to your TVs, smartphones, and Echo smart displays, complete with a splash of Alexa convenience. Sounds good, but has the Fire TV Recast missed the boat in this age of on-demand entertainment?
Hardware and Setup
With its sober matte black plastic casing, nobody is going to call the Fire TV Recast anything other than discreet. At 7.1 x 7.1 x 2.9 inches it's smaller than most cable set-top boxes, with only a multi-color LED hidden behind the perforated front panel to show system status.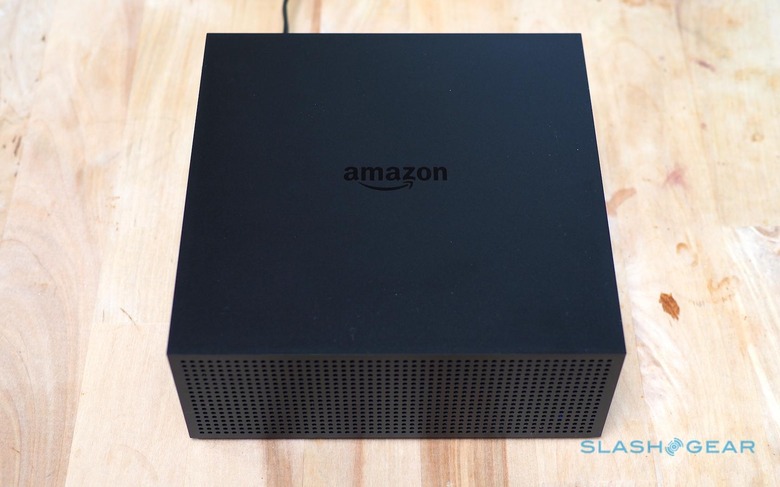 On the back, there's a TV antenna input, a USB port, ethernet port, and power connector. Unlike traditional set-top boxes there's no video output, however. That's because the Fire TV Recast doesn't connect directly to a display.
Indeed, there's no requirement to have it near your TV at all. The idea is to position it where it's within reach of the best possible TV antenna location: either plugged into the wall socket of a roof antenna, or using a standalone HD antenna. Amazon provided me with one of its own-brand powered antennas that you can put into a window, and the Fire TV Recast app walked me through finding the ideal location.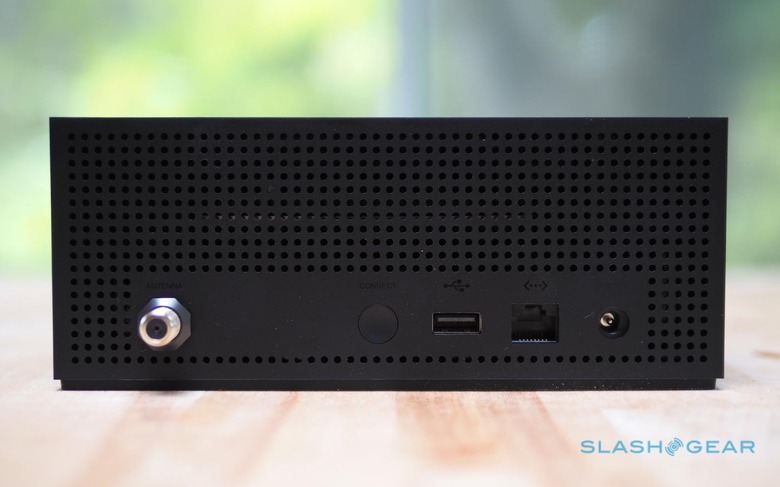 Eventually you'll be able to use the USB 3.0 port to add external storage, but that's not yet enabled. Amazon offers two versions of the Fire TV Recast, differing by capacity and the number of tuners offered. $229.99 gets you 500GB – good for around 75 hours of video – and two tuners; $279.99 doubles both to 1TB of storage and four tuners.
Either way, setup is straightforward. Using the Fire TV Recast app for iOS or Android, you connect the box to your WiFi network – if you're not using wired ethernet – and log in with your Amazon account. After that, it automatically scans for whatever channels are available.
What you'll get depends on where you're located, how your antenna is set up, and the signal strength of the various stations. The FCC has a guide to show what sort of channels you can expect depending on your address. On a Fire TV device, meanwhile, you get a new DVR tab in the UI. Clicking that will show what's currently playing live.
You still need a Fire TV
Since the Fire TV Recast doesn't connect directly to your TV, you'll still need some way of accessing the live TV and recordings it offers. That means a Fire TV device: I used the new Fire TV Stick with 4K for my testing.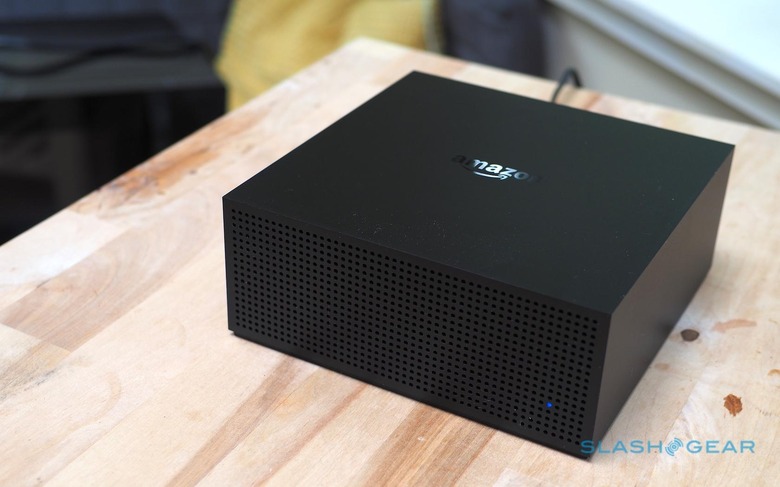 With a 2-tuner Fire TV Recast, you can record two programs that overlap, or watch one live channel while recording another, or watch two live channels on two different devices. With a 4-tuner Fire TV Recast, you can record four programs at once, or watch up to one live and one recorded program on different devices, while recording up to three more programs in the background.
Alternatively, with the 4-tuner model, you can watch up to two recorded programs on different devices, with four programs recording in the background. Finally, you can watch up to two live programs, on different devices, while recording up to two other programs in the background.
In short, regardless of model, you can only have two devices actually playing content – live or recorded – at the same time. It's a disappointing limit, frankly, and you can't get around it by adding a second Fire TV Recast. Only one can be linked to your Amazon account.
Scheduling and Playback
Through the DVR tab in the Fire TV interface, you get access to both live channels and setting up recordings. The former run in thumbnails across the screen, including live previews and a progress bar to indicate how far through each show is. When selected, you also see what's coming up next.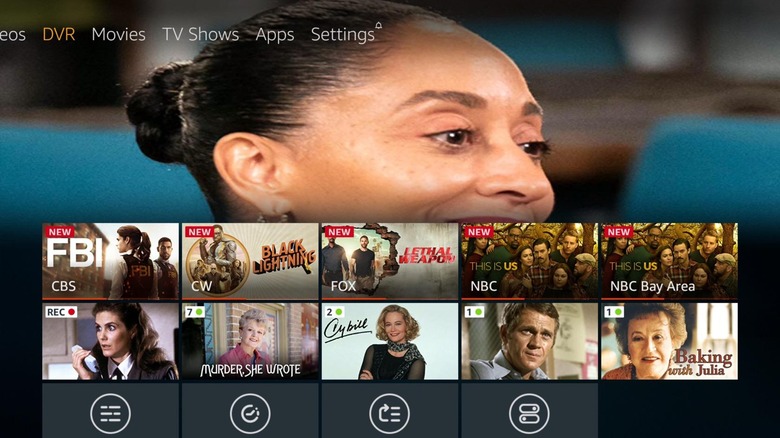 It's not just Fire TV Recast content, mind. If you've got any Prime Video Channel subscriptions, or a PlayStation Vue account, live TV from there will show up into the "On Now" row as well. Eventually Amazon hopes to add more live TV providers to the section.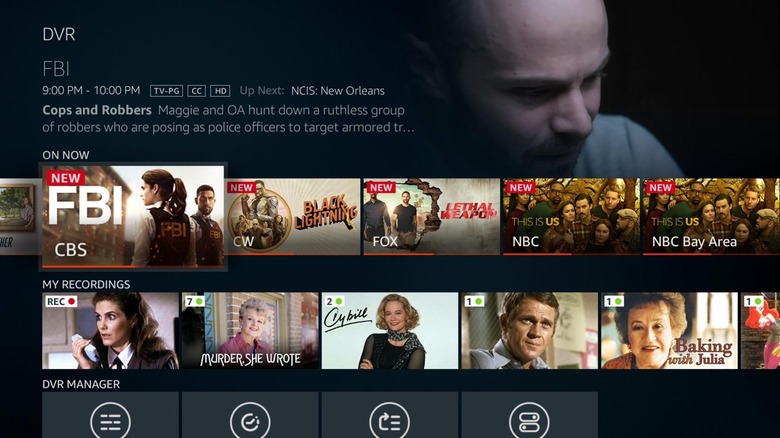 In the row below that, you have your recordings. Each is grouped by series, if appropriate, and clicking through shows each episode you have available. Scroll all the way to the right, and the "Manage" option allows you to delete recordings as well as see what's scheduled, together with adjusting recording priority. If you absolutely don't want anything to override your "Murder, She Wrote" season recording, you can bump that up to the top of the priority list.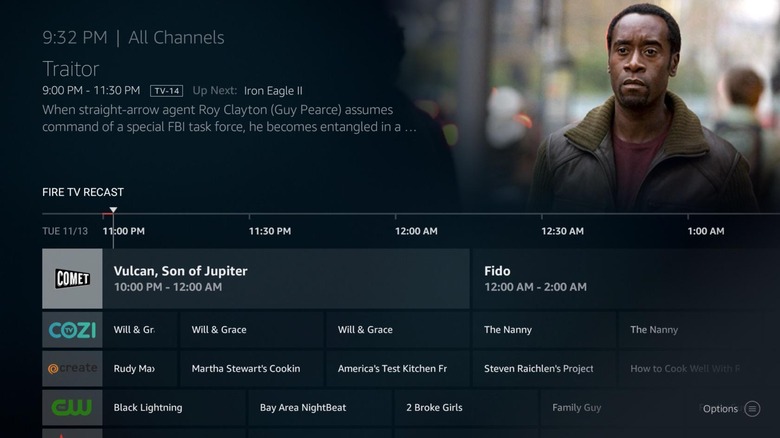 At the bottom there's the channel guide. That uses a familiar layout from cable TV boxes, with channels in a vertical list and programs running horizontally. Amazon offers fourteen days of scheduling; however, you can also choose to record a whole season of a show, in which case the Fire TV Recast will automatically add new episodes to its scheduled recording list.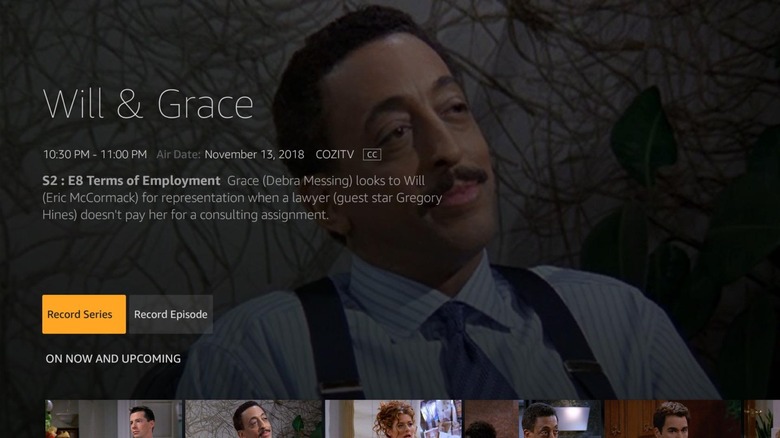 It's all very familiar if you've used a cable DVR's programming guide, but that does mean it suffers some of the same limitations. I'm used to being able to quickly access categories on Netflix and other on-demand providers, and see content organized by type: sport, maybe, or science-fiction shows. Right now Amazon offers no such organization, which means there's lots of clicking around the guide to find what you might want to watch.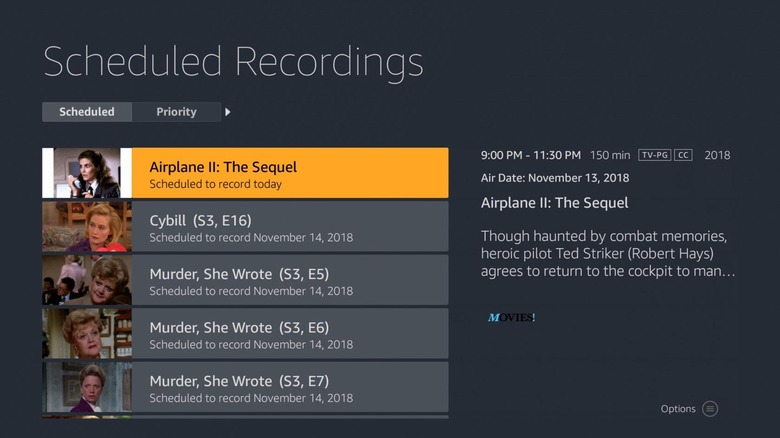 By default, the Fire TV Recast will record in HD if available. It'll also start and stop recording according to the scheduled time. You can, however, override those settings: switching to SD, for instance, and adding some padding to the start and stop times. It's also possible to have a limit on how many episodes in a season are recorded. Beyond that limit, the Fire TV Recast will automatically flag the oldest episodes for deletion.
You can protect certain recordings so that they're never deleted, however. That also stops the DVR from automatically removing them once it nears the hard-drive's capacity, assuming you've not been manually deleting them. Otherwise, it will start with the oldest recordings to free up space.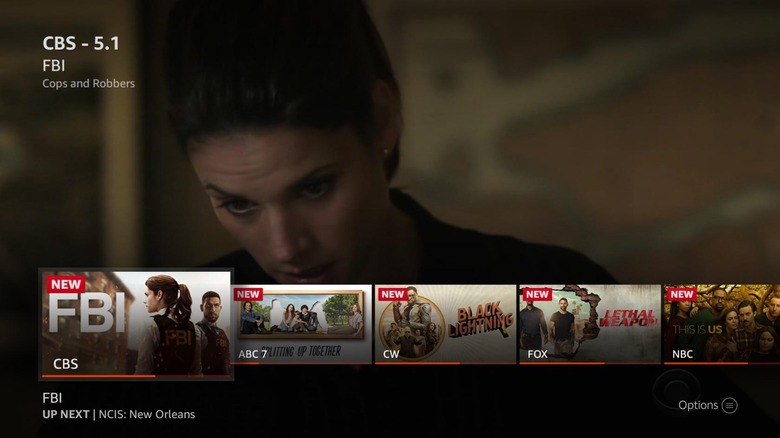 As for video quality during playback, don't expect 4K. Indeed, you're looking at 720p or 1080i at best. For casual viewing that was fine: if I was going to watch a recent movie, I'd be unlikely to find it on over-the-air channels anyway. Amazon uses WiFi Direct between the Fire TV Recast and the Fire TV for the lowest possible latency, though it will switch to regular WiFi if it's streaming to your phone.
The basics on mobile
Amazon's mobile app for the Fire TV Recast has the basics, but I also ran into some notable limitations. Just as with the Fire TV interface, you can scroll through what's currently playing live. You also see what's coming up next.
There's no channel guide with details on programming beyond that, however. Similarly, recording is bare-bones in the app. You can start the Fire TV Recast recording immediately, but there's no control over scheduling. You can't even tell the DVR to only start recording when the next program begins.
It's a shame, because being able to browse the channel guide and set up recording schedules seemed like something I was more likely to want to do on my phone, when I had a spare moment, than when I was actually sat in front of the TV. By that point, I was typically more interested in watching something than trawling through upcoming shows. Amazon says in-app scheduling will be coming to the Fire TV Recast, but there's no public timescale for that.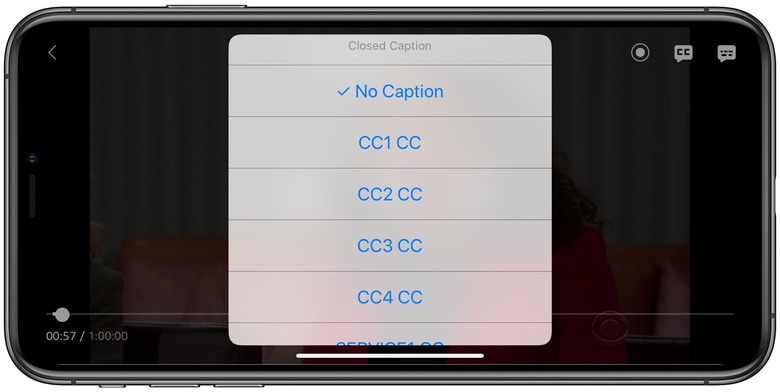 The app also offers access to your library of recordings, which will stream over WiFi or LTE. Amazon adjusts the picture quality according to the strength of your connection, and it's worth remembering that it's dependent on not only whatever cellular network your smartphone is on, but the upload capacity of your home internet connection.
Most of the time, over LTE, I found it was perfectly satisfactory to watch OTA content, though it did typically take 20 seconds or so of initial buffering before the stream began. Amazon tells me it's working on improving mobile performance over LTE.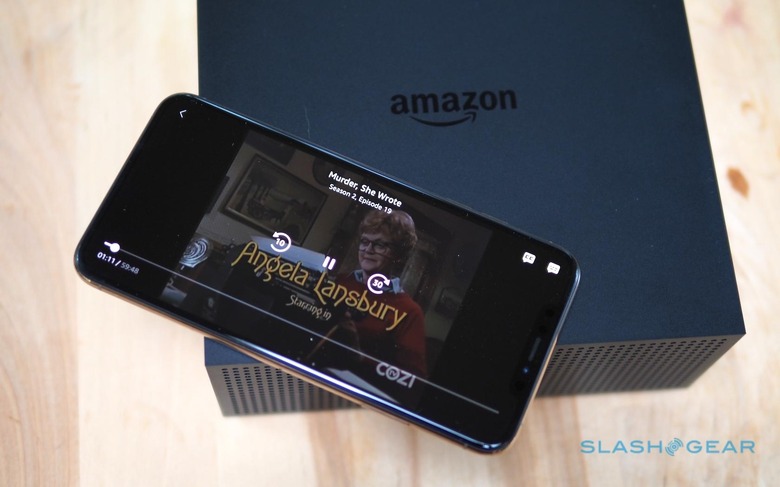 That's more frustrating when you're trying to skip through live TV than it is when you're watching a recording. Either way, you get navigation controls to skip forward or back through the video. Of course, in live video you can only skip back as far as when the tuner started playing that channel.
The other big annoyance is the absence of offline playback. Amazon doesn't offer a way to transfer recordings to your smartphone to play them back while you don't have a connection, such as when you're on a plane. Nor can you copy recordings off the DVR for backup on a computer.
Alexa as remote
As you'd expect, Amazon has tightly integrated Alexa into the Fire TV Recast experience. While the assistant isn't integrated into the DVR itself, any Alexa-powered device on the same account can control it.
You can ask to see the channel guide, for instance, or tune to a specific channel by name. Asking "Alexa, record 'Columbo'" will set the DVR to record the entire season. You can also cancel a recording, or delete it, by voice. "Alexa, show my recordings" navigates straight to the list of shows on the DVR.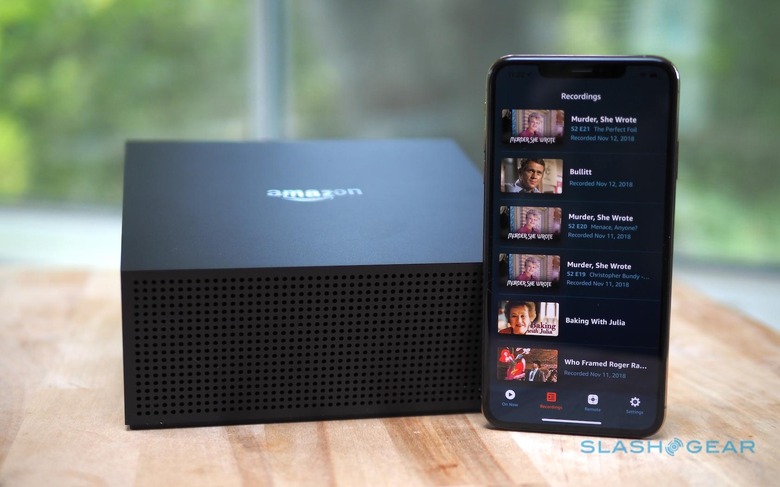 If you've got an Echo Show, meanwhile, as long as it's own the same WiFi network and logged into the same Amazon account, you'll be able to open the channel guide on the smart display. Both live and recorded programs can be watched, useful if you've got an Echo Show in the kitchen and want to catch up on your shows while you're cooking.
Whatever device you're using, you can also rely on Alexa commands to navigate. That includes play/pause, along with skipping forward and backward. Handy since you'll undoubtedly want to navigate through commercial breaks.
The TiVo question
Amazon clearly isn't the first to the DVR space, and though TiVo is probably the best-known of the existing alternatives, there are plenty of others. That includes cable TV provider's set-top boxes, which typically now offer recording functionality.
What sets Amazon apart is the absence of any ongoing fees. Once you've bought the Fire TV Recast, there's no subscription to cough up each month. Another benefit from Amazon's system is that you can stream from it to multiple devices, rather than just one.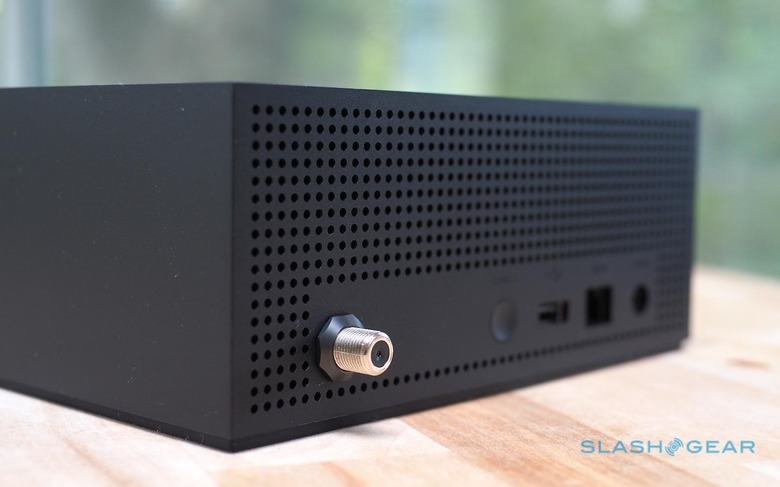 It's not entirely alone in the market, mind. The AirTV, for instance, is cheaper at $120, and even if you add a USB hard-drive for DVR storage it's still less expensive than the cheapest Fire TV Recast. It lacks the tight integration with Fire TV adapters and TV sets, however.
Then there are things like Tablo and HD HomeRun. Each has its enthusiasts, many of which are drawn to the extreme flexibility each system offers. Amazon's DVR is easier to use, however, which will likely make it more popular with the less technical members of the household.
Verdict
There's plenty to like about the Fire TV Recast. It's easy to set up and readily hidden away; affordable for what you're getting; and the experience on a Fire TV device is tightly integrated. Factor in Alexa, and it's undoubtedly one of the easiest ways to control a DVR.
That's not to say there aren't some frustrations. Amazon's still fettling the mobile app experience, but it's fairly underwhelming right now. The absence of recording scheduling on your phone, not to mention the sluggishness of beginning playback means it's a far less pleasant experience than, say, dipping into YouTube while you're waiting for a bus or killing time on a break.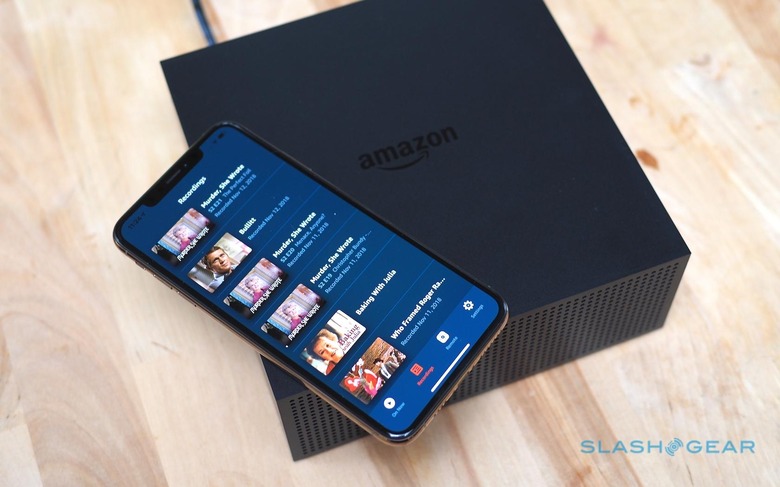 My biggest concern, though, is the playback limit. Only being able to stream to two devices simultaneously could be a deal-breaker for families, and undermines Amazon's positioning of the box as the hub of all your OTA content.
I really hope Amazon loosens that restriction, because there's an ease and elegance to the Fire TV Recast that puts other DVRs to shame. Its absence of subscription fees, not to mention plenty of storage and the option of up to four tuners make it as powerful as it is straightforward to use.
SlashGear uses affiliate links, and sometimes if you purchase something we'll receive a commission on the sale