Amazon Fire TV Edition is coming to 4K UHD smart TVs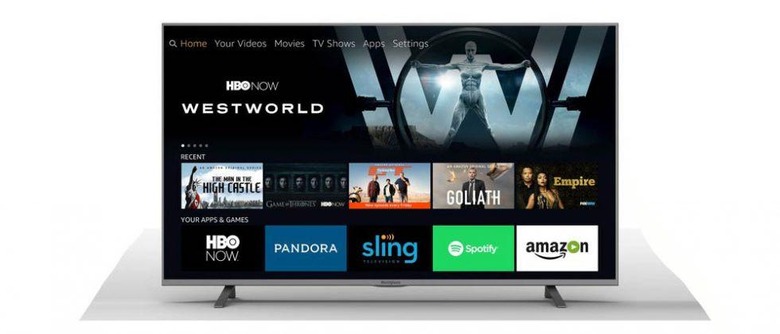 There's a new smart TV platform on the market, and it's one that many consumers already know well: Amazon Fire TV Edition, the smart TV version of Amazon's Roku competitor. This version of Amazon Fire TV will be available on a new line of 4K Ultra HD televisions from Element Electronics, Seiki, and Westinghouse. Much like the Roku smart TVs, you'll be able to access the Fire TV functionality and interface directly on the television, no set-top-box or HDMI stick required.
Amazon Fire TV, of course, is available to anyone with a television via the set top box or the smaller Fire TV Stick. These TVs, though, remove the need to use those devices by taking the platform and installing it directly onto the smart television itself. Many companies have their own smart TV platforms, such as Samsung, and Roku expanded its own presence in the relatively recent past by offering Roku Smart TVs via TCL.
Now Amazon has done something similar, but it has jumped straight to the UHD end of the television platform, giving prospective buyers the ultra-high-resolution that has become increasingly popular. In addition to streaming content, these smart TVs will also make over-the-air content available to owners.
You'll need to have an HD antenna to watch those over-the-air broadcasts, of course; Amazon says these broadcasts will appear on the Fire TV platform's "Recents" row on the home screen, making them easy to access in the future. There's also a channel guide for viewing what content is and will be available on live television.
Users will also be able to utilize voice commands to open streaming products, such as "Open Netflix." These voice commands can also be used to rewind content or skip to the next episode, for example. Users can use voice commands or the remote to switch input to other devices, as well, such as a PlayStation that may be connected to the TV.
The Fire TV Edition televisions will be available in 43", 50", 55", and 65" sizes, all of which are set to launch some time later this year. No prices were revealed.