Amazon Fire TV Blaster gives Alexa your TV remote
We may receive a commission on purchases made from links.
Amazon may have had a great gush of new products last month, but it's back on the announcement train today with the Fire TV Blaster, an IR blaster for Alexa. It'll give Amazon's assistant greater control over your home entertainment devices, such as being able to power on TVs, projectors, audio systems, and more.
They're talents that the Amazon Fire TV Cube has counted among its abilities for a while now, but the Amazon Fire TV Blaster puts them into a standalone form. That makes it more compact and, even more important, cheaper.
In fact the new IR blaster comes in at just $34.99. A Fire TV Cube, in contrast, is $119.99. Amazon will also have a bundle, including the Fire TV Blaster, a Fire TV Stick, and an Echo Dot, all for $79.99.
Unlike the Fire TV Cube, the Fire TV Blaster isn't a streaming device. In fact it doesn't physically connect with your TV at all. Instead, once powered on, it works with a Fire TV Stick, Fire TV Stick 4K, and a Fire TV 3rd Gen, along with any Echo smart speaker or smart display. Infrared commands are sent to your AV devices.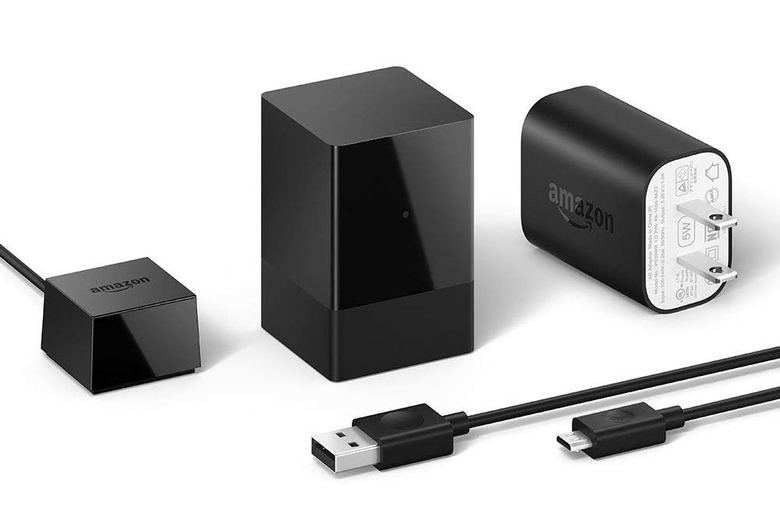 It'll mean you can ask Alexa to turn on the TV, for example, and the Fire TV Blaster will issue the right IR command to do that. Changing channel is supported, too, as is changing HDMI inputs, controlling a soundbar or surround sound system, and then turning everything off at the end of the night. With a Fire TV streamer, you can request shows by name, and control fast forward and rewind.
The box itself is just over 2-inches tall, and since it doesn't have a microphone array itself, you don't need to worry about keeping it out of your AV cabinet. Instead it should be positioned 1-2 feet from whatever devices you'd like to control, Amazon says. There's also an IR extender included, which allows for control over other devices up to 1.5m away. Power is via a USB adapter, also in the box.
The Fire TV Blaster is up for preorder now, priced at $34.99, as is the bundle package. It'll ship on December 11, in the US, Canada, the UK, and Germany.