Joining its newly announced Echo audio products, third-generation Dot, and Smart Plug comes another major Amazon product: the new Echo Show. This updated Echo device, as with the original, features a display for video content, but builds upon it to offer improved features and a better experience. Buyers can expect an advanced microphone array, a compact design, and more.
Unlike the Echo and Echo Dot, which are audio-based, the Echo Show features a display, greatly expanding its functionality. Users can watch videos, engage in video chats with others, pull up security camera feeds, browse content and recipes, and more. The new Amazon Echo Show features a redesigned look and 10-inch High Definition display.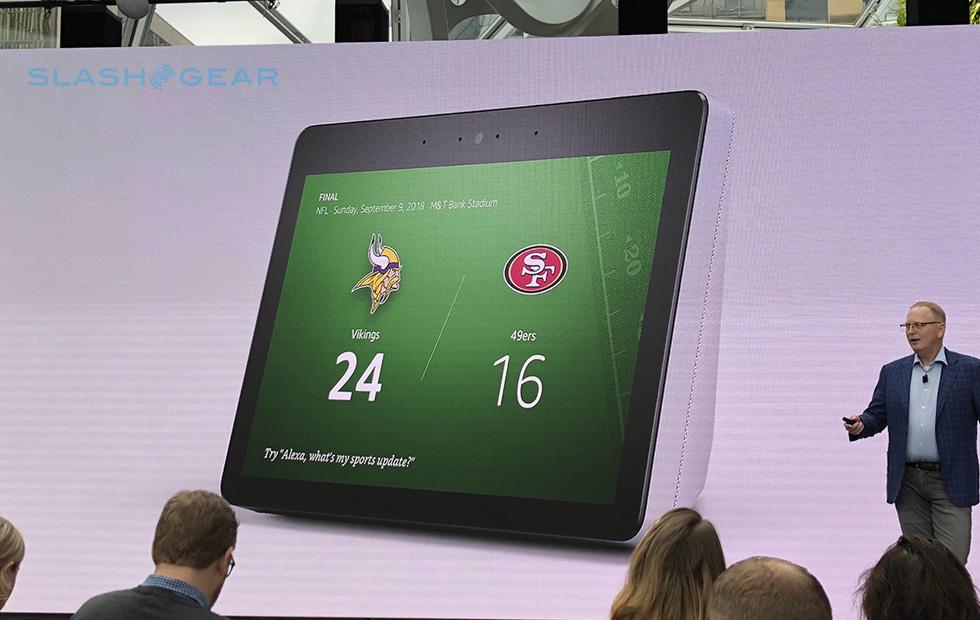 Amazon boasts that it has completely redesigned the Echo Show; the front speaker is notably missing, making the entire device look smaller and less clunky than the original. Included with the new model are a pair of integrated 2-inch side-firing neodymium drivers, as well as a bass radiator within the smart display. Amazon uses real-time Dolby processing and there's an 8-microphone array, which the company says is the most advanced available.
The Echo Show will include Skype support, enabling users to video chat with each other; there will also be the Silk browser and Firefox, both of which will make accessing websites — and maybe even YouTube* — possible. When put in a kitchen, for example, the browsers could be used to pull up text-based food recipes.
The device will support Amazon Meal Kits, which is a feature that allows users to cook along with a recipe using Echo Show. Amazon says it is working on getting other partnerships for the device, including with Food Network, Hulu, and Fox Sports. The new Amazon Echo Show will be available in the US, Canada, UK, Australia, Germany, and Japan starting in October for $229.99 USD.
*Update: The 2018 Echo Show will indeed be able to access YouTube and stream videos from it using either of the two included Web browsers, as well as videos from other sites like Facebook.