Amazon Echo Buds Revealed: Bose Tech, Alexa, And Noise Cancellation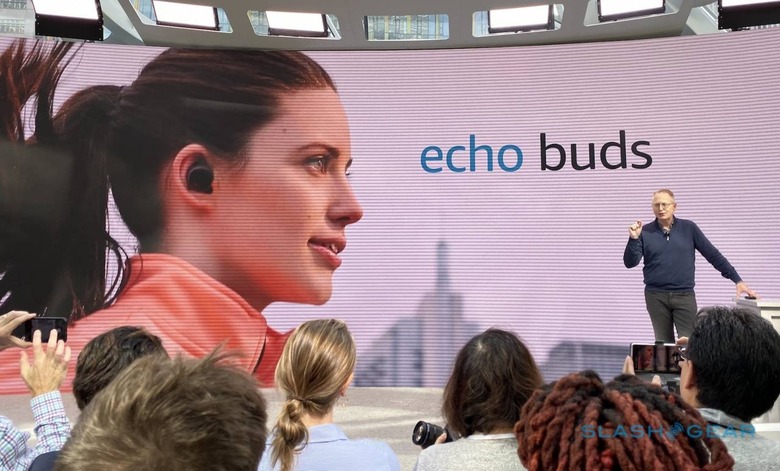 Amazon has officially unveiled the wireless earbuds that leaked last week, its new Echo Buds. As anticipated, these truly wireless earbuds provide users with direct access to Amazon Alexa (though users can also tap-and-hold to get Google Assistant or Siri), as well as technology from audio company Bose, and a design that enables users to wear the earpieces while active.
Echo Buds is officially the first wearable product from Amazon that offers customers access to its Alexa personal assistant. Despite their small size, Amazon is promising both long battery life and noise cancellation technology, offering a wire-free experience that blocks out ambient sounds and offers long playback with minimal charging.
The Echo Buds' noise cancellation feature is made possible by the Bose Active Noise Reduction technology; users can turn this feature on and off to allow ambient audio to pass through when necessary. That's an important feature for people who are out jogging near cars, for example, or working places with frequent interruptions, such as at the office.
Users can expect five hours of battery life from the earpieces themselves, as well as up to 20 hours of additional battery life from the case, which doubles as a portable charger. Though certain details are still missing at this time, Amazon has revealed that Echo Buds features a pair of 'premium and balanced' armature drivers for high-end audio quality.
Amazon says its new earbuds will work well for shopping, particularly at the company's Whole Foods stores, where users will be able to ask Alexa — via the earbuds — whether certain produces are available and where in the store they are located. Consumers can expect the Echo Buds to start shipping next month; they're available to preorder now at $129.99 USD.