Amazon delivery locker trial begins Friday says 7-Eleven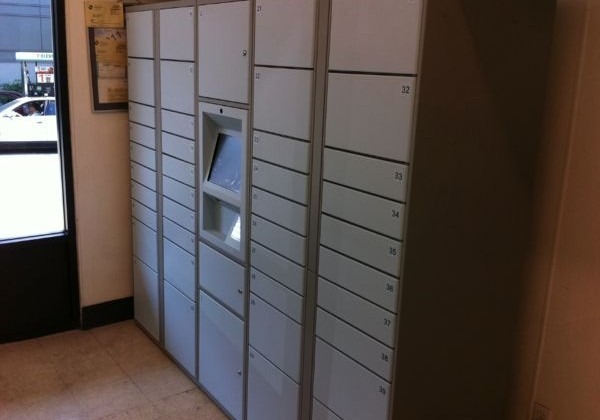 Amazon's in-store pick-up system, tipped last week as being imminently trialled at 7-Eleven stores, could open for service as early as this Friday, according to new reports. Geekwire hunted down one of the Amazon delivery lockers at the 1522 East Madison Street 7-Eleven in Seattle, and were told by a clerk that the store plans to activate them by the end of the week.
The concept is straightforward: customers ordering from Amazon but uncertain whether they will be at home or at the office will be able to direct their delivery to a locker at a nearby 7-Eleven store. Those lockers – which have various sizes of cabinets, with forty in the unit spotted this week, to accommodate different scales of package – will be managed by a keypad and monitor, similar to that of an ATM, in the middle of the unit.
Although Amazon has not confirmed that it is trialling the system, and there is no branding anywhere on the lockers themselves, the expectation is that shoppers will be sent a unique passcode – unlocked via a barcode that can be printed out or flashed on a phone screen – that will allow them to claim their delivery when they choose. We're guessing Amazon will have some sort of maximum time period in which that must be completed, so as to keep the turnover of individual lockers going.
While trials of the system look to be beginning imminently, a full roll-out across the US isn't expected to happen until next summer. Amazon rivals like Best Buy already support in-store collection of online orders, something the online-only retailer has lacked until now.