Amazon Cloud Cam: What you need to know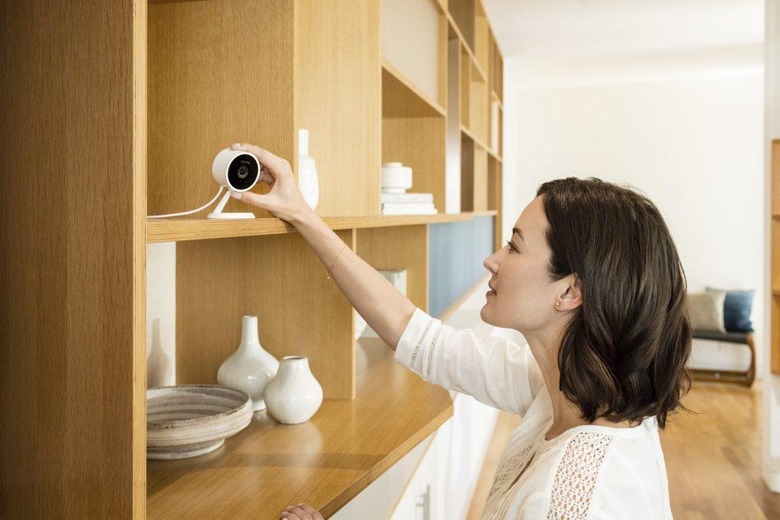 We may receive a commission on purchases made from links.
Earlier today, Amazon introduced the world to its new in-home delivery service, Amazon Key. Operating as an integral part of Amazon Key is the new Cloud Cam, which will allow you to watch deliveries as they happen through the accompanying app. There are actually quite a few details about the Amazon Cloud Cam that are worth knowing before you decide to buy one, so let's dive into them.
The Amazon Cloud Cam captures 1080p video at at 30 frames per second with a 120-degree diagonal field of view. One of the most intriguing features about the Cloud Cam is that it also offers night vision, so you can still see what's happening in low or no light. Perhaps most importantly, you don't need to sign up for Amazon Key to be able to use the Cloud Cam – though Amazon envisions the two going hand-in-hand, the Cloud Cam is available separately from the Amazon Key In-Home Kit.
The Cloud Cam includes a built-in microphone, allowing you to take advantage of two-way audio, but it can also be paired with an Alexa device like the Amazon Echo or Echo Show to extend those capabilities. Speaking of Alexa, you can also use Alexa commands to see a live feed of your camera on any supported device, such as Amazon Fire TV or your Fire Tablet. Such integration is to be expected, but with the announcement of Amazon Key happening on the same day, its Alexa capabilities kind of flew under the radar.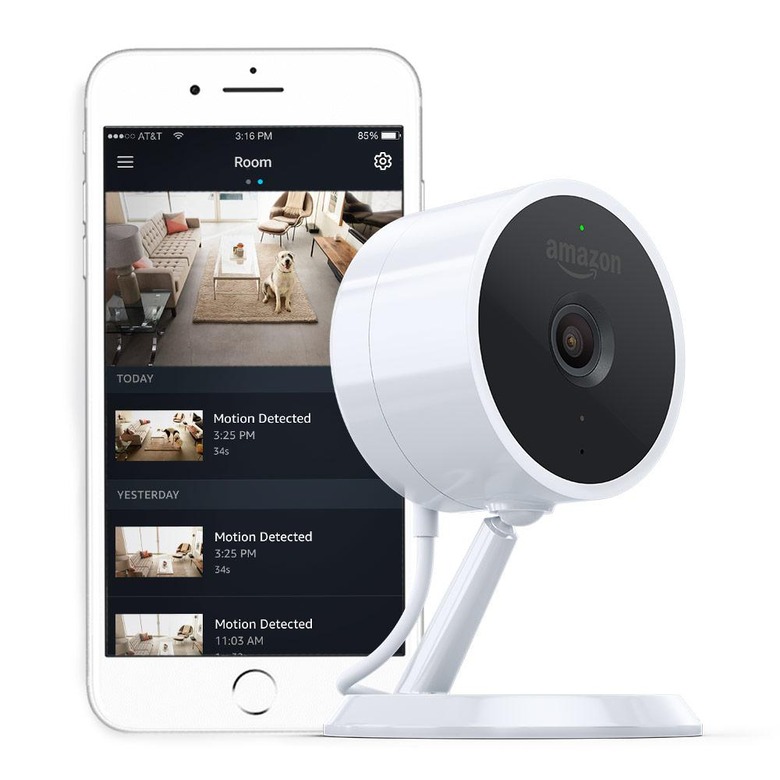 The clips captured by Cloud Cam are backed up to Amazon's AWS servers, and there is a free storage tier for those who don't want to pay a monthly fee for the service. With that free tier, clips from up to three cameras are stored for 24 hours and you'll also receive alerts when the cameras detect activity. That might be good enough for some, but paying a monthly fee unlocks more capabilities for Cloud Cam users. Here are the three paid tiers for AWS backup:
Basic ($6.99/mo or $69.99/yr): 7 days of backup for up to 3 cameras

Extended ($9.99/mo or $99.99/yr): 14 days of backup for up to 5 cameras

Pro ($19.99/mo or $199.99/yr): 30 Days of backup for up to 10 cameras
Beyond extended backup time and support for more cameras, all of the paid subscription tiers come with a number of other perks. In addition to the motion notifications you get for free, you'll also receive person detection, allowing your camera to tell the difference between human and non-human activity (such as when your pets are moving around the house). You'll also be able to set zones around your house where movement won't trigger alerts, and finally, you'll unlock unlimited sharing of the clips you capture. These features are available to all paying customers, regardless of tier.
So, paying an extra monthly fee might be worth it for some people, depending on how big of a role these Cloud Cams will play in your home security set up. It should be noted that the Cloud Cam is only an indoor camera, so you'll need to buy another brand if you want to cover your outdoor area. Everyone who purchases a Cloud Cam will get a 30 day free trial of paid features as well.
Finally, we come to release date and pricing. The Cloud Cam will launch on the same day as Amazon Key – November 8, 2017. One camera will cost $119.99, but if you know you want more than one, you can save a little cash by purchasing a two pack for $199.99 or a three pack for $289.99. The Cloud Cam is available to pre-order from Amazon today.