Amazon biodome campus design proposal approved by Seattle board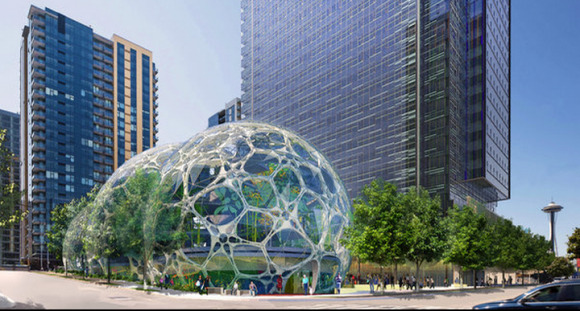 Apple isn't the only company looking to create an eye-catching campus. Amazon is pursuing permission to build an interesting biodome structure that will be part of its new downtown Seattle campus in Washington. Though it still has a while to go before the building comes to fruition, Amazon is a step closer to its goal, having received approval from the Seattle city review board on its design proposal.
According to the LA Times, the Seattle Design Review Board granted approval for the design — which was created by architectural firm NBBJ — this past Wednesday. The design is said to be both "engaging and inviting to the public passing by," and as you can see from the concept design above, it certainly stands out amongst Seattle's downtown skyscrapers. Next up on the approval list is Seattle's Department of Planning and Development.
Assuming all the permissions can be acquired, the eventually completed campus will have 3.3 million square feet of both retail and office space, taking up a substantial three blocks in the city. There will be a total of three biodomes, each adjacent to three 28-story office skyscrapers. Such an undertaking represents both an ambitious goal on the retailer's part and serves as a reminder of the large amounts of company growth it has seen in recent years.
This follows Apple's spaceship campus approval in Cupertino, where the city council gave unanimous approval on October 16. Apple has one move left in the long process — a second public reading of the Cupertino/Apple agreement, which is scheduled to take place on November 19. When finished, the campus will be shaped like a ring and will take up 2.8 million square feet of space.
SOURCE: LA Times