Amazon Appstore Celebrates One Year With App Deals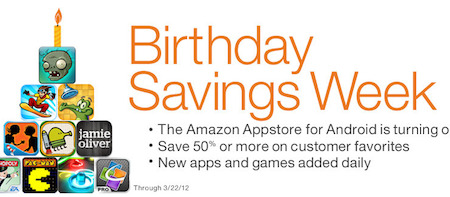 The platform that allows users to buy and download Android apps without actually going to the Android Market has been alive and kicking for an entire year. In that time, it has arguably grown to be an even more attractive place to find and discover apps than Google's own service. It gained even more traction when Amazon began selling its own tablet, the Kindle Fire.
To celebrate the anniversary milestone, Amazon is giving users steep discounts on some of its best-selling apps. "Customers have used the Amazon Appstore to test drive and buy millions of apps and games for the Kindle Fire and other Android devices in the first year alone," said Amazon Appstore director Aaron Rubenson. A different app is being recognized every day for an entire week.
The Appstore has become a launching pad for many app developers, with numerous titles being available there before they're released to the Android Market (now the Play Store). It has also been successful in defending its name against Apple, which claimed that it owned the exclusive rights to the words "App" and "Store" next to each other (which would be like Old Navy trying to own the rights to "clothing store").
[via DailyFinance]