Amazon And Warner Bros Deal Gives Prime Video Tons Of New Movies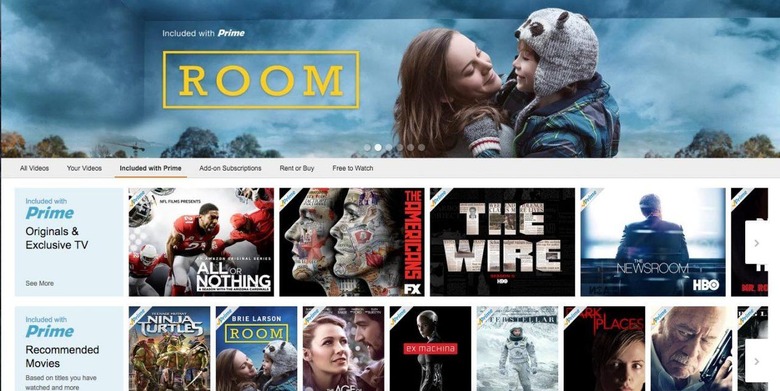 Amazon has scored an exclusive movie deal with Warner Bros that brings a slew of movies, including some well regarded ones, to the Prime Video platform. The deal makes 33 movies exclusive to Amazon Prime Video (as far as streaming goes, that is), the roster of which includes all of the Lethal Weapon and Matrix movies, Ocean's Eleven, three Teenage Mutant Ninja Turtles movies, and more.
Amazon Prime Video is available to Prime subscribers and those who are willing to pay for the content individually. Though it hasn't reached Netflix levels of fame, the service is packed full of modern content, as well as Amazon's original shows like Transparent and Mozart in the Jungle.
Thanks to this deal, it also now has the exclusive streaming rights to 33 movies...meaning you won't be able to watch them on competing services, making Prime Video a sliver more attractive. Still, Netflix isn't going to loosen its grip without a fight, and it has been striking its own deals — most notably, it will stream CW shows only a week after their season finale on television, something that follows the end of a long deal with Hulu.
The following movies have been and will be added to Prime Video; the ones with asterisks are available to stream now, while the rest will be coming soon:
The American President*

Barcelona*

Good Night, And Good Luck*

Grumpier Old Men*

JFK*

Mystic River*

Ocean's Eleven*

See Spot Run*

Space Jam*

Storytelling*

Twister*

The Wedding Singer*

Any Given Sunday

Austin Powers: The Spy Who Shagged Me

Caddyshack

The Candidate

The Devil's Advocate

Dreamcatcher

Final Destination

Full Metal Jacket

Interview With the Vampire

Lethal Weapon

Lethal Weapon 2

Lethal Weapon 3

Lethal Weapon 4

The Matrix

The Matrix Reloaded

The Matrix Revolutions

Teenage Mutant Ninja Turtles

Teenage Mutant Ninja Turtles 2

Teenage Mutant Ninja Turtles 3

Training Day

You've Got Mail
SOURCE: Variety