Amazon has launched a new section called "$10 and Under" that, as the name suggests, presents customers with items that cost no more than $10 each. The category is full of trinkets, clothing, jewelry, and other inexpensive items. Notable is the section's free shipping, keeping the cost very low for those times you have money to burn. The section appears to be a direct response to the website Wish.
Wish.com is a platform that offers random items at low prices, some of it falling solidly into the "junk" category, others being interesting enough odds and ends. Amazon's $10 and Under section has the same feel, though a quick glance shows the absence of some of the more questionable products you may see on Wish (such as weight loss magnetic ear stickers).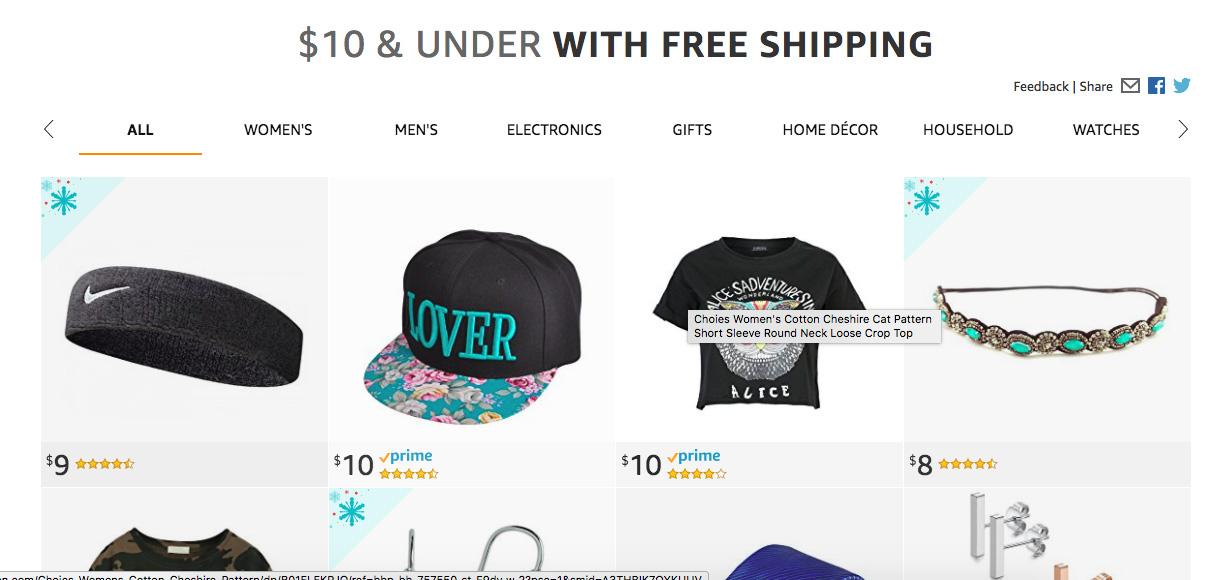 The new section, which was first spotted by TechCrunch, was launched without any big announcements, leaving customers to stumble upon it themselves. The "Free Shipping" part is emphasized by Amazon on the section's header, though many items are available under the Prime subscription, which means they qualify for 2-day free shipping rather than just general "free shipping."
It appears that the free shipping is available to everyone buying items from this category, including non-Prime subscribers. Some of these items can be found generally, not just within this specific category…this appears to be Amazon's way of making these items easier to find.
Items are organized into categories that include Men's, Women's, Electronics, Home Decor, Household, Gifts, Watches, and more. However, users can just scroll downward endlessly to see all of the products on a single page, a deviation from Amazon's otherwise page-based library. It isn't clear whether the new section is available to everyone or is a limited test.
SOURCE: TechCrunch