Amazing tiny Arcade Cabinet models
We've seen full-sized arcade cabinet replicas before, but I don't think we've ever featured 1.75-inch replicas.  These awesome little gaming machines are intended to distract passengers in a model train diorama, but I'd quite like a row of them on my desk and you can keep the trains.  The handiwork of J&C Studios, seven different versions are available.
On offer are Defender, Phoenix, Zaxxon, Centipede, Galaga, Donkey Kong and Pac Man.  They're all made from lasercut styrene, with adhesive decals, and can be backlit with a well-placed bulb.  Each set of stickers has authentic logos and a screenshot of the title in-progress, and even I should be able to put them together as it's a case of slotting in tabs.
J&R also sell tiny pinball machines, which can also be backlit, as shown below.  The arcade cabinets are $7.49 each, and the pinball machines - of which there are also seven to choose from – are $6.49 each.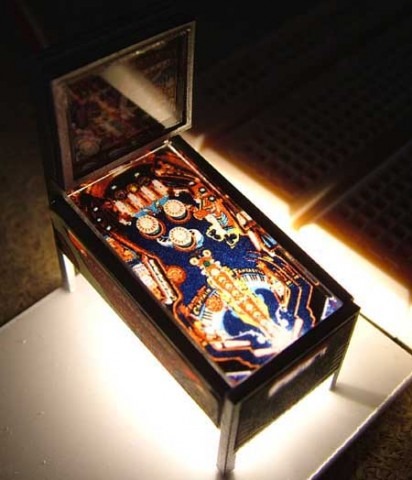 [via Kotaku]