Amazing solar powered New American Home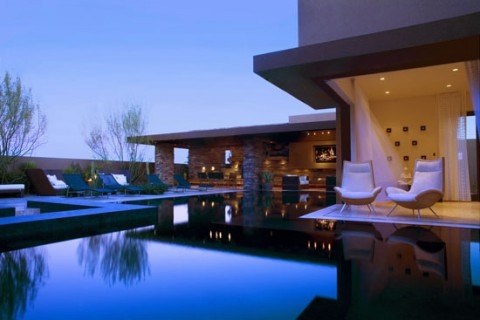 While most of us were in Vegas coving the CES floor of events the guys over at DVICE were away from the strip checking out the New American Home. This new age home was built with help from a few select tech companies, the most notable being Microsoft.
Up on the same block that Wayne Newton lives, the New American Home has a large collection of "whole-house" electronics including a 16-zone Nuvo distributed-audio system, Anthem A/V processors and 10 Toshiba HDTVs, all of which are controlled by software developed by Lifeware that allows users to control it from anywhere they like. From your phone to can start the bathtub, activate the towel warmer and even select what music you wish to listen to.
The best part of all this is that there is no monthly electric bill, everything is powered by the extensive solar paneling that makes this house 100 percent self powered. One might be expecting a house like this to go on the market for several if not hundreds of millions of dollars, but the price for one is just more than $5 million. There are plans to create 14 more of these amazing New American Homes in a community called Marquis Vegas.