Amazfit Pace GPS running watch needs no phone for tracking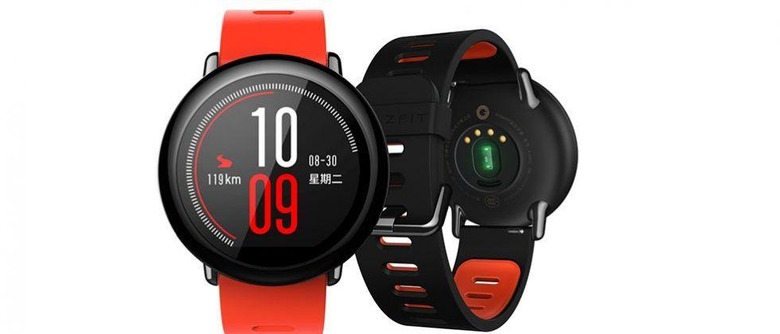 People who like to get data on their workouts outdoors don't always want to take their smartphone with them to record the tracking data. If it's raining or muddy, worry about killing your smartphone is real. Amazfit has a new GPS running watch called the Pace that needs no phone to track all your workout data. The watch has 11 days of battery life and 2.4GB of internal storage.
Pace can also display your heart rate and can sync with your mobile device to give you notifications. The GPS recording captures your run distance, time, pace, heart rate, calories burned, speed, cadence, max and average moving pace, max and average speed, max and average cadence, altitude, elevation gain, elevation loss, and min and max altitude. All that data is synced with and available to view in the Strava Run app.
The GPS hardware supports GPS and GLONASS. The Pace is water resistant with IP67 certification to survive dust, rain, splashes, and submersion. Notification support includes calls, messages, emails, and notifications from apps. The bezel of the watch is made from ceramic.
The device tracks heart rate automatically and continuously during your workout. The 2.4GB of internal storage allows music to be stored on the watch and it has Bluetooth for syncing with wireless earphones. That battery lasts up to 11 days per charge, or 36 hours with continuous heart rate and GPS recording. The display is always on and designed to be read in direct sunlight. Pace is available now for $129 now through Cyber Monday and will normally retail for $159.
"The wearables market as a whole is at an inflection point — wearables hold great promise for helping people establish healthy habits, but they are cost-prohibitive for many people," said Frederik Hermann, Head of U.S. Marketing and Sales for Amazfit. "As an industry, we must come together to focus on providing more utility that encourages habit-forming behaviors, and making the technology accessible to a wider audience. We saw incredible demand for PACE when it launched as Huami's Amazfit Smartwatch in China and we are thrilled to bring it to a U.S. audience."