Aluratek Libre and Kobo eReader Finally Get a Price Drop Thanks to Borders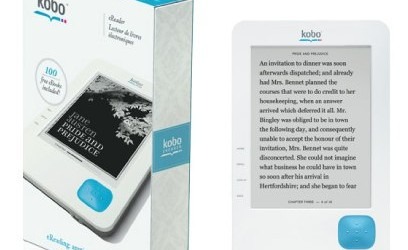 Back in June, things got pretty exciting in the eReader market. There were price drops happening all over the place, especially as some major players in the market started showing off new hardware at cheaper price points. And then in July, Amazon managed to throw in a new model of the Kindle into the mix, and successfully kept both models under the $200 mark. But back in June, when the price wars were getting under way, a couple eReaders were left in the dust. Primarily, the Kobo eReader and the Aluratek Libre.
But apparently that's all over and done with, because the two eReaders have finally received the price cut they so aptly deserve, courtesy of Borders. While the new prices aren't quite reflected on their website (as of the time of this writing), reports suggest that the eReaders have been dropped to $130 (for Kobo's eReader), and $100 (for Aluratek's Libre). That means the Libre is the first "mainstream" eReader to make it that low in the price bracket.
The Kobo eReader and Aluratek Libre are good enough eReaders, and have been generally well praised, even as they stand amidst the competition from Amazon and Barnes and Noble. The price drop is coming well after the price wars, but that doesn't mean it still doesn't make them relevant. Especially if you're in the market for a new eReader, but you don't want to spend over a certain amount.
[via Electronista]