Altec Lansing MIX Boombox promises input confusion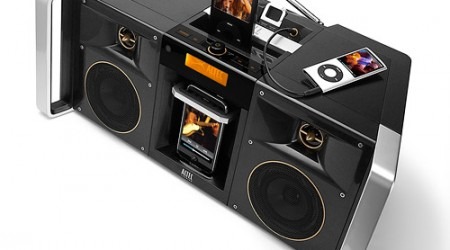 It's hard to imagine the sort of arguments Altec Lansing's MIX Boombox iPod speaker system might inspire, hooked up to so many different PMPs as their eye-catching press shots suggest.  The chunky boombox not only has a universal dock for your iPod, iPhone or iPod touch, but dual aux-in ports, a digital FM radio and a side-mounted 5.25-inch subwoofer.
There's also a nifty little remote with both a clip-fastener and a slot-in nook on the boombox itself, plus grab-handles and the ability to run for 30 hours from eight D-sized batteries.  Altec Lansing have thrown in "Fierce bass" and a 7-band graphic equalizer, together with a cellphone mode which automatically pauses the music should a call on your iPhone come in.
We're not feeling the style, which strikes us a little too "try hard", but if you're looking for a portable speaker system with more inputs than sense, then the MIX Boombox may fit the bill.  It's on sale now, priced at $299.95.