Alpinist Camera Case looks better than your camera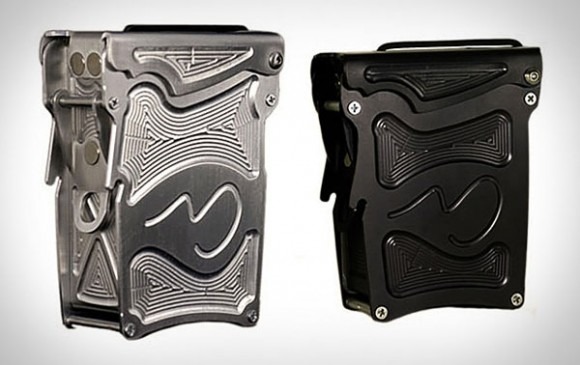 If you like to do things in the outdoors where your electronic gear is very likely to take a beating you need to take precautions or you will be buying new gadgets all the time and that gets very expensive. You can buy some point and shoot cameras that are rugged on their own, but most of us already have a camera we really like and want a case that will keep it safe while hiking or doing other things in the outdoors.
A very cool case has turned up called the Alpinist Camera Case that has the coolest design of any case for a camera I have ever seen. The case is made from lightweight aircraft-grade aluminum and it has a ring that is intended to allow the user to clamp the case and their camera to a climbing harness, backpack, or other carrying method. The case comes in black or silver and looks to be very rugged. I really like the etched design on the surfaced of the case, I bet they help with more grip too.
The cases are designed to be water resistant, have safety lock slots, side grip pockets, magnetic latches, and foam lining. The foam lining will help your camera inside survive a drop. The price for the cases is $60 to $120 depending on the size you need. They are offered in sizes to fit cameras from very thin up to the fatter Leica style cameras that are more like a DSLR than a point and shoot.
[
Uncrate]