Alpine A110 SportsX shown off at 2020 International Automobile Festival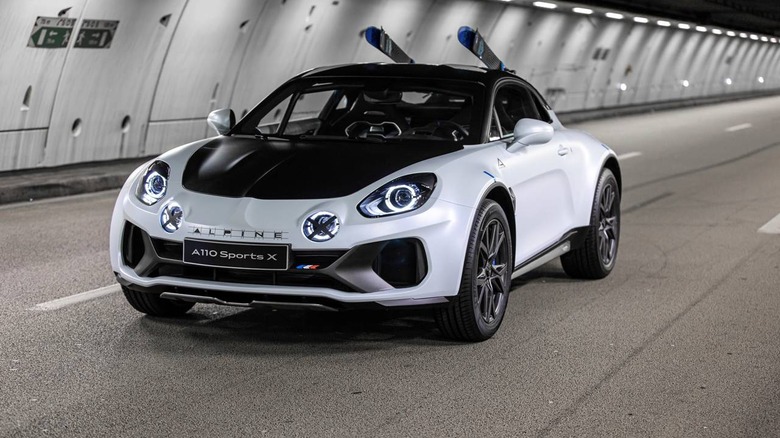 Alpine is participating in the International Automobile Festival (FAI) in 2020 and has an exhibit that highlights historical, present, and concept models. Among the models that the automaker is showing off at FAI is a concept seen in the images here called the Alpine A110 SportsX. Alpine says that the car is a joint effort between the design and engineering teams.The SportsX was inspired by the A110 that won the 1973 Monte Carlo Rally. The car has an 80mm wider body and 60mm higher ground clearance. It's based on the technical aspects of the A110 Pure and retains the Alpine creed of lightness and agility. The model isn't available for sale and isn't intended for production.
Also, on display at FAI is the Alpine A110 1800 Gp4 that was built solely for rally racing. It was dominant from 1969 to 1972 in European and African rallies with nearly 150 victories. It has been completely restored by "a small team of enthusiasts" and was completed in 2019 after a year of almost daily work.
A 1971 Alpine A110 is also featured that won the French Rally Championship in 1968 and the World Rally Championship in 1973. It's a Berlinetta A110 two-seater with a 5-speed gearbox and a 103hp engine to move 705kg of vehicle. It has a body structure made of fiberglass and polyester resin.
An Alpine A110S displayed that was unveiled in 2019 at Le Mans 24 hours and sits at the top of the A110 range. The car has new touches of color with an orange and carbon exterior. The car uses the same lightweight and compact aluminum body as any A110 with stiffer coil springs and tuned dampers. It also has firmer, hollow anti-roll bars. The two-seater has 292PS and weighs 1114kg. Alpine sells that car, starting at €66,500.