Alleged spec sheet for 13" MacBook Pro 2012 leaks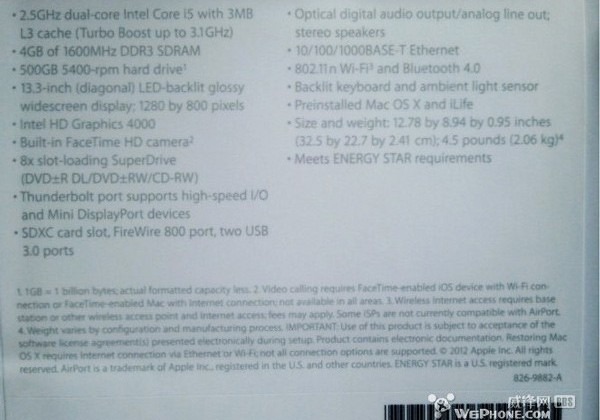 The 15-inch MacBook Pro has been the main model tipped to include a Retina display, with not much being said of the 13.3- or 17-inch models. A leaked spec sheet indicates that that 13-inch may not see a Retina display update, instead settling for a mobile Ivy Bridge update as well as two USB 3.0 ports. The integrated graphics also see a bump to Intel's HD 4000 GPU.
The photograph indicates that the 13.3-inch MacBook Pro will be stuck with a 1280x800 resolution, and come with a 2.5Ghz dual-core processor, 4GB of RAM clocked at 1600Mhz, a 500GB 5400 RPM HDD, Thunderbolt port, and two USB 3.0 ports. The FaceTime HD camera makes a return, as does the FireWire 800 port and SDXC card slot.
It might be somewhat disappointing to learn that the 13.3-inch MacBook Pro won't see a higher resolution display, but take the spec sheet with your daily dose of salt. Reports have indicated that the 15-inch models would be the most likely to receive such an upgrade, with hints that the MacBook Airs may also see the Retina displays. We'll find out soon enough, as WWDC kicks off on June 11th. We'll be liveblogging the event, so keep it locked to SlashGear for all the details.
[via Engadget]