Alleged mid-engine Corvette spied grabbing a burger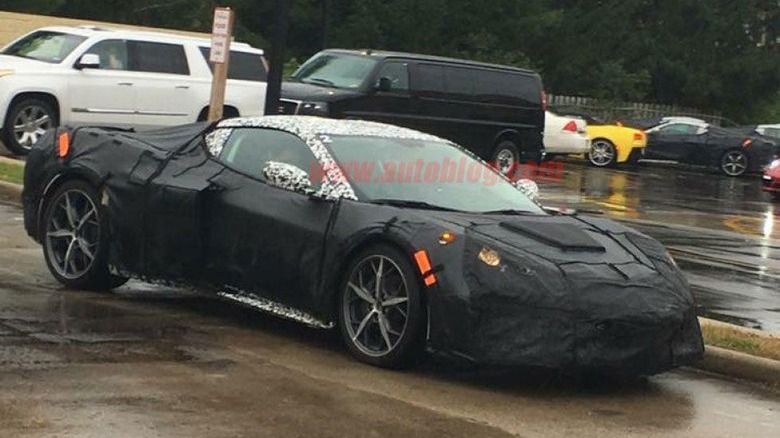 The mid-engine layout is something that has been around in the sports car world for a very long time. The benefit of mid-engine is that it allows the engine, one of the heaviest components of the car, to be mounted more towards the middle of the car giving better balance and weight distribution. Traditionally the Corvette is a front engine, rear-drive sports car and it can hang with some of the best that Europe has to offer.
Rumors have been swirling for a long time that Chevy would be taking that traditionally front-engined Corvette and turning it into a mid-engine beast. In fact the first time this
rumor surfaced was way back in 2014
. The car in the images here is clad in some very heavy camo to keep its identity secret.
Word is that the car seen here is the mid-engine Corvette and if true, the car is clearly well into its development. These spy shots were snapped in the drive-thru lane of a McDonald's in Cadillac, Michigan. You can tell from the images that the car has a massive air intake behind the driver and passenger to feed cooling air to the radiators to keep the V8 cool.
Another rumor that goes along with this mid-engine Corvette is one that claims a major shift in engines is coming as well. Chevy isn't expected to cram a turbo four or six under the hood, the engine will almost certainly be a V8, something the Vette is known for. Traditionally the Corvette has used an overhead valve V8 engine.
Rumors continue to suggest along with the major change to mid-engine, the Corvette will also get a dual overhead cam layout. The big benefit of moving to the DOHC fuel economy, smaller size, and good power potential. A listing for a DOHC LT5 V8 for a Y chassis car turned up last year, Y chassis cars are Corvettes.
SOURCE: