Alleged LG Nexus 5 2015 appears in real photo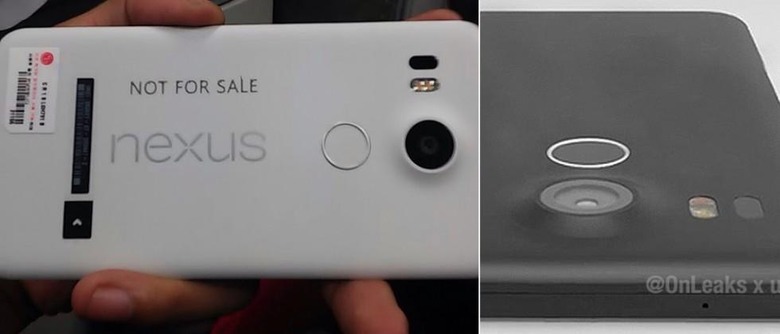 With the Samsung Galaxy Note 5 out of the way, there is now more room for other upcoming devices to grab the spotlight. Like the upcoming Nexus smartphone, or smartphones, whether they be from LG or from Huawei. This latest leaked image is allegedly LG's third Nexus handset. And this time, it's no schematic or render but what is supposedly a real device, albeit only the back side of it. And while it does seem to match other earlier leaks, it also raises some doubts as well.
The plastic white rear cover does seem to match previous Nexus designs with similarly plastic backs. The Nexus name and the LG sticker are dead giveaways too, but, then again, those can easily be faked these days. The design does resemble renders we've seen over the weekend, but that's not always an assurance.
Some have questioned whether this photo or even the renders preceding it are the real deal. After all, the camera bump on the back is not a design typical of any of LG's regular smartphones and definitely not the previous Nexus 5, which has a flat protruding disc instead of a tapered hump.
Another prominent backside feature is a seemingly empty circle that is said to be a fingerprint scanner. Official support for the sensor is coming in Android M, which will ship with the new Nexus. That said, the previous Nexus smartphone, Motorola's Nexus 6, had a dimple thought to also be a fingerprint scanner and it didn't turn out that way.
With nothing else to go on aside from this solitary rear view of the device, we'll just have to take the leaker's word for it, at least for now. The Nexus 5 2015 or Nexus X as some call it, is expected to arrive sometime later this year, perhaps around October or November, with a 5.2 inch screen, in contrast to Huawei's Nexus which is said to come with a larger 5.7 inch display.
SOURCE: +Inno Yudah