All-new 2019 Hyundai Santa Fe pricing announced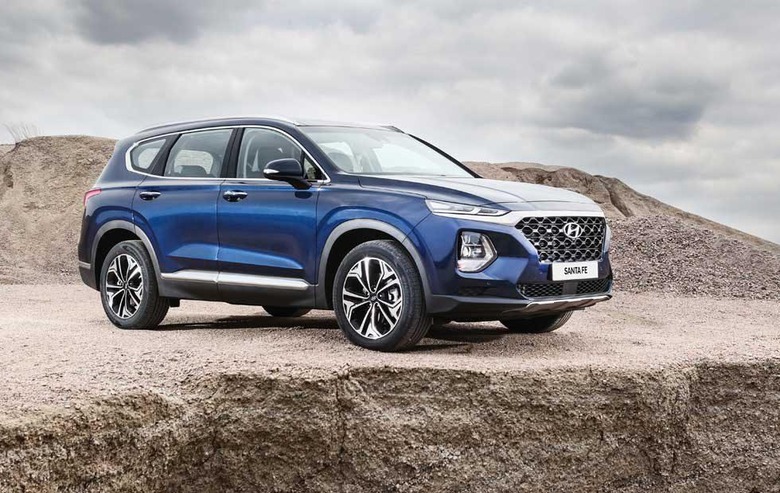 Hyundai has announced the starting price for the all-new 2019 Santa Fe SUV. With an all-new design, Hyundai says that the price increase is only $550 compared to the 2018 Santa Fe Sport and the 2019 model gets more features. The starting price is $25,500 for the SE 2.4 model.
Standard features on that entry-level Santa Fe include Hyundai SmartSense driver assist system that includes rear cross-traffic alert, forward collision avoidance, and smart cruise among other things. The new design is "bolder" according to Hyundai and visibility, cabin room, and cargo space are increased. Hyundai fits the SUV with idle stop and go tech and an eight-speed automatic transmission.
Combined EPA estimated fuel economy is 25 mpg. The SUV also gets Rear View Monitor, Android Auto, and Apple CarPlay support. There are dual front and rear 2.1-amp USB charge ports. The Sport designator has been dropped with the vehicle simply being called the Santa Fe for 2019.
For the 2019 model year the longer wheelbase three-row, seven-passenger Santa Fe will become the Santa Fe XL. There is no word on pricing for that larger SUV currently. Hyundai is offering AWD and FWD Santa Fe models for 2019.
An SE 2.4 AWD model starts at $27,200. There multiple models of the Santa Fe with the next step up from the SE being the SEL priced at $27,600 for SEL 2.4 and the AWD version starts at $29,300. SEL Plus FWD is $29,800 and the AWD is $31,500. Limited FWD is $32,600 with the AWD version at $34,300. Ultimate 2.4 FWD is $35,450 with the AWD version at $37,150. Stepping up to the Limited 2.0T FWD is $34,200 with the AWD version at $35,900. Ultimate 2.0T FWD is $37,100 with the AWD at $38,800. All models have an additional $980 for freight.
SOURCE: Hyundai