Aligata iPad Case Review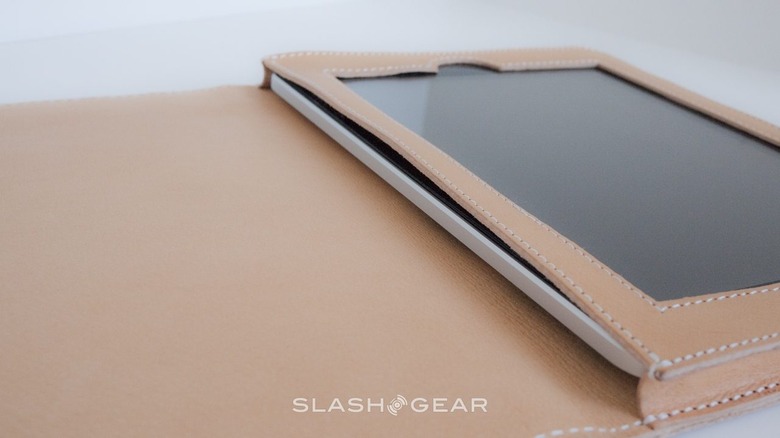 For some, a gadget case is just a means to an end: a way to protect their latest toy from bumps and scrapes. For others, they're a means of self-expression, enhancing the ownership experience and significant in their own right. Aligata's Nippon and Perfect Black cases fall resolutely into the latter camp, natural grain leather folios that make a virtue out of their unique finish. Are they the top choice to clad a precious iPad? Check out the full review after the cut.
Considering most companies are at pains to highlight how polished their offerings are, it's a surprise to hear Aligata point out that their iPad cases neither fit perfectly nor have perfect surface finishes. In fact, the minor flaws – glitches, scars and small imperfections – are part of the allure; you can even see creases where the cow bent its neck and tiny holes where horseflies bit them. That might be off-putting to those who prefer not to consider where leather actually comes from.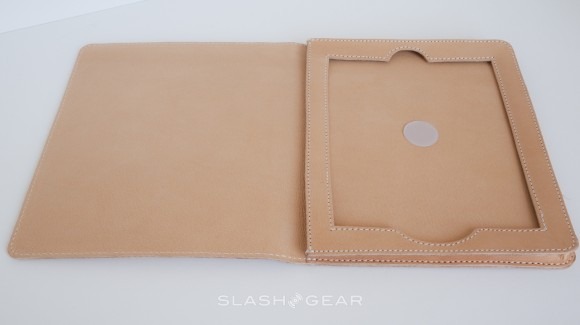 If you can cope with its bovine origins, however, there's something deeply appealing about a product that revels in its naturalness. The Nippon case is slightly oxidized and died yet still pale, whereas the Perfect Black is obviously much darker. Unfortunately, because of manufacturing issues with sourcing the dyed leather, Aligata are no longer manufacturing the Perfect Black case; we received our review sample before they made that decision. Over time, the natural patina of the leather will change and the color – on the Nippon at least – darken, making sure every case remains unique.
The physical design of the cases is pretty straightforward. The iPad slides into the stitched leather frame where it hinges, and is held in place with a central rubber dot . It's not quite the tight grip of, say, Apple's official iPad case, but nor is it a slip-sleeve. You'd have to shake it at just the right angle to accidentally drop the tablet, certainly. It's worth noting that there's no clasp, strap, Velcro or magnet to keep it closed; Aligata reckons magnets have an adverse affect on Apple's mobile devices. Whether or not that's true, we do wish there was some simple way of keeping the folio closed when you drop it into your bag.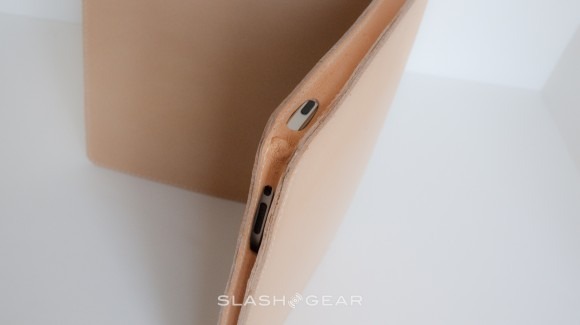 Cut-outs at the top allow access to the sleep/power button and the headphone socket, on the side for the volume rocker and screen orientation switch, and at the bottom for the dock connector and speaker. Either a hole is punched in the bezel at the top, or a notch, for the ambient light sensor, while the lower edge scallops to accommodate the home button. Aligato use 3/16-inch thick leather, which is on the thick side for cases we've seen but also surprisingly supple. It certainly feels capable of withstanding a knock or drop, even if it landed on one of the corners.
What it won't do is act as a stand to prop your iPad up in landscape orientation for watching video; unless there's something to wedge up against, it just slides open and flat. To be fair, Aligata also warn in advance that's the case, but it's still worth bearing in mind if that's one duty you expect a folio to fulfil. Finally, there's some upkeep involved if you want the Aligata to stay looking its best: glycerine soap if you want to clean it, oil or leather grease if you want to treat the surface. You could leave it to age naturally, of course, though it might pick up some stains along the way.
At $69 the Aligata Nippon is obviously more expensive than Apple's basic case, but it's less than half the price of leather rivals from Vaja. We also prefer the more natural appearance of the Aligata materials to the somewhat over-refined Vaja cases, though that's of course personal preference. What we can say with a fair degree of confidence is that the Aligata Nippon should have no trouble protecting your iPad and, indeed, outlasting it, and will probably only get more handsome along the way.