Alienware Aurora R4 Packs Hexacore Core I7 And Active Vents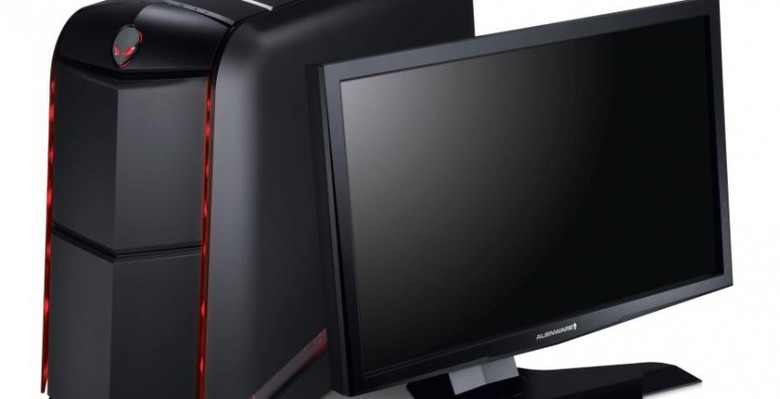 Dell has launched its latest gaming PC, the Alienware Aurora, a hexacore-based powerhouse with liquid-cooling as standard and eye-catching active vents running across the top. Running a choice of Intel 3000 Core i7 processors, paired with the X79 Express chipset, quad-channel DDR3 memory and dual-graphics options each with GDDR5 memory, the new Aurora even managers to look almost subtle with its matte black case and red LED highlights.
Easy access to the internal components is a given, with the whole side-panel slotting off easily. Four hard-drive bays side side-on, with a choice of HDD or SSD storage, while there's room for two extra 5.25-inch drives up-front alongside the standard optical drive. LED lighting means not only does the Aurora look good in the dark, but it's easy to see what you're poking at when working on the insides.
An Intel factory overclock, optional 3D graphics and multi-display support, and tool-free component fittings round out the key points. The Alienware Aurora R4 is priced from $2,199, and will go on sale through Dell today.
Update: More specs and a UK price – from £1,999 – now added:
2nd Generation 3000 series Intel Core i7 Six Core Processor Options
New Intel X79 Express Chipset with Unlocked BIOS for Overclocking1
Single and Dual Graphics Options:
- 1GB GDDR5 AMD Radeon HD 68702
- 2GB GDDR5 AMD Radeon HD 69502
- 1.25GB GDDR5 NVIDIA GeForce GTX 560 Ti2
- 1.5GB GDDR5 NVIDIA GeForce GTX 5802
- Dual 1GB GDDR5 AMD Radeon HD 6870 – AMD CrossFireX2
- Dual 2GB GDDR5 AMD Radeon HD 6950 – AMD CrossFireX2
8GB or 16GB Quad Channel 1600MHz DDR3 Memory Options2
Fast 7,200RPM Hard Drive Options up to 2TB; 256GB and 512GB SSD Options4
Single and Dual Optical Drive Options; Including Blu-ray Disc Reader and Burner
High Quality Audio Options:
- Internal High-Definition 7.1 Performance Audio with Waves MAXX Audio Software (Standard)
- Creative Sound Blaster X-Fi Xtreme Audio (Optional)
- Creative Sound Blaster X-Fi Titanium (Optional)
System Dimensions: height: 16.77" (426mm), depth: 25.39" (645mm), width: 9.85" (250mm); weight: starting at 45lbs (20.41kg)