Alienware Area 51 M9750 review - Media powerhouse
An Alienware computer is a mythical beast. Ever since Alienware started making computers in 1996, gamers and power hungry PC addicts have drooled over their speed, processing power, and overall design. This is the first time I've ever spent more than a couple hours with an Alienware machine, so I wasn't truly privy to the finer points of an Alienware. All I can really say is that I've never been so impressed with the performance of a notebook computer.
As mentioned in the unboxing, this computer has no spining hard drive. Just two 32GB RAID 0 Solid State Drives. This makes booting the device, and loading large files a super fast process. It's fairly comparable to a 7200 RPM drive, but without the loss in battery life (and without all of the extra heat). There are a few other options available from Alienware including two 64GB drives in RAID 0, for a combined capacity of 128GB.
With 2 GB of DDR2-667 RAM (up to 4GB available), and a Intel Core 2 DUO T7200 2.0 GHz processor, you won't have any problems running the latest memory hungry applications (or operating systems). And the 512MB Nvidia GeForce 8700m GT GPU will boost your imaging, 3D rendering, and general visual experience in the Windows Vista environment.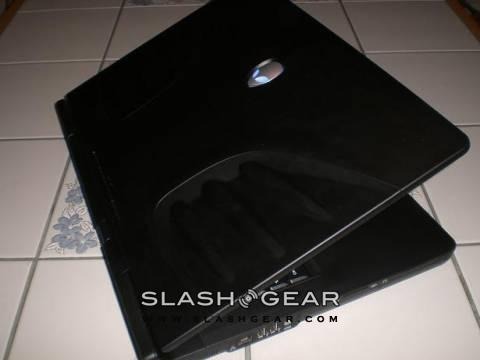 Form wise, the computer has a solid build. It has a glorious 17-inch screen crowned with a 1.3 megapixel webcam. The matte black finish throughout most of the device keeps fingerprints to a minimum. A full size keyboard makes typing, or gaming a lot easier. There is a classic Alienware "grill" on the lid, with a wicked glowing alien head, that will have the less informed approaching you in coffee shops asking "What kind of laptop is that?" The speakers and optical drive are both located on the front of the notebook. There were a couple times where I bumped against the front of the laptop and inadvertently popped the optical drive open.
There are plenty of inputs on the device. Four USB 2.0 – two on the left side, one on the back, and one on the right. One IEEE 1394 for all of your streaming media. The Express card slot is located of the left side, next to the SD/Memory stick reader. This model also came with a TV tuner card which added an S-video input, Coaxial input, and Composite video input.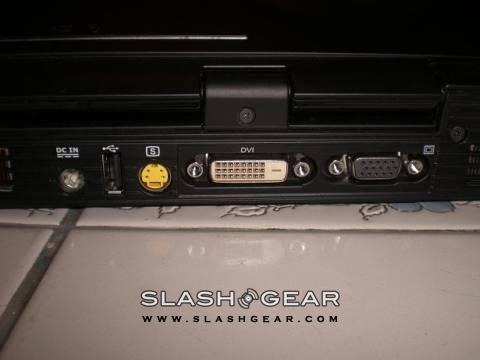 Output wise you have all of the industry standards with a couple nice surprises. VGA will connect to most monitors these days, while DVI output is generally reserved for higher end models with better resolutions (and most LCD televisions also have this – imagine Crysis of a 52 inch screen). The S-video output is nice if you need to give a presentation in a pinch, as most televisions and projectors will have this input. The real treat is the Optical Audio output. Optical connections are top of the line, and it's the best audio quality you can get. Forget 5.1 surround, this notebook's pumping out 7.1 surround sound. The Bluetooth wireless connectivity is very clean. It was very easy to connect it with a variety of devices, from cell phones, to headsets. The wireless 802.11 card from Intel was above par, receiving a, b and g protocols.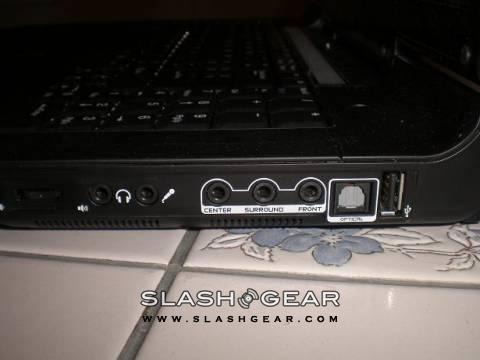 While the SSDs, and the Core 2 DUO processor lend to longer battery life, the M9750 isn't really meant to be a mobile computing solution. It's more of a desktop replacement notebook. With that said expect to get about an hour and a half in Vista's "Power saver" energy profile. On top of that the notebook weights around 9 pounds, plus a 3 pound power adapter.
Overall, this is a stellar device for gaming and media. If you're looking for a desktop replacement notebook, you can not overlook the Alienware Area 51 M9750. With all of the options available you can create the perfect system for you, and your budget. Our system spec'ed out at around $3700, but you can pick one up starting at $1699. Check out Alienware's website at Alienware.com.