Alienware Area-51 gets NVIDIA GeForce GTX 280 GPU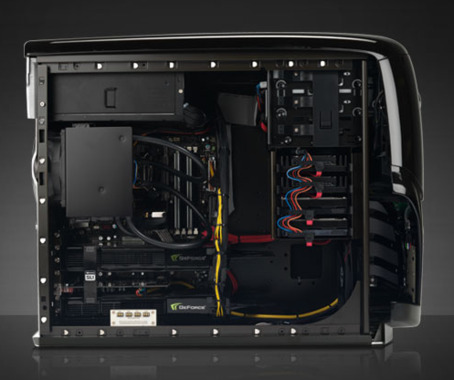 Presumably someone at Alienware has been talking with NVIDIA, as it hasn't taken the gaming PC manufacturer very long to announce new versions of their Area-51 desktop using the latest GeForce GTX 280 GPU. Available on the Area-51 7500, Area-51 and Area-51 ALX machines, up to three of the 602MHz GPUs can be specified.
The 7500 will now be offered with one NVIDIA GeForce GTX 280 with 1GB of memory; the Area-51 will have a choice of a single 280 or a dual-SLI configuration. Meanwhile the flagship ALX will offer a 3-way SLI configuration. The ALX was recently upgraded to include a 3.2GHz Intel Core 2 Extreme QX9770 overclocked to 4.0GHz, 4GB of DDR3 RAM and liquid-cooling. Prices start at $1,849 for the 7500.
While the GTX 280 boasts 50-percent more gaming performance over the first-generation NVIDIA GeForce 8800 Ultra GPU, what will also interest many is its ability to take on some of the general processing usually undertaken by the computer's main CPU. NVIDIA call this system CUDA; a similar approach is offered by AMD's FireStream 9250.
Press Release:
Alienware Area-51(R) Desktops Get Muscular New NVIDIA Graphics

Alienware offers New NVIDIA(R) GeForce(R) GTX 280 GPUs in their Area-51(R) desktop computers

MIAMI –(Business Wire)– Jun. 16, 2008 Alienware – the leading manufacturer of high-performance desktop, notebook and entertainment systems – reaffirms its commitment to providing only the most advanced graphics technology by offering the all-new NVIDIA(R) GeForce(R) GTX 280 GPUs with the Area-51(R) family of desktop computers. Designed for unprecedented gaming performance, users can select the 602MHz GeForce GTX 280 GPU with a full 1GB of memory.

While the Alienware Area-51 7500 will support only a single GeForce GTX 280 GPU, the flagship Area-51 desktop will feature both a single card option and a dual-SLI(R) configuration. For gamers looking for a true burst of graphics power, the legendary Area-51 ALX desktop offers a 3-way SLI configuration for the world's most advanced, most powerful graphics solution.

Features of the NVIDIA GeForce GTX 200 line of graphics cards include:

– 2nd Generation NVIDIA Unified Architecture – 192 enhanced processor cores deliver 50- percent more gaming performance over the first-generation NVIDIA GeForce 8800 Ultra GPU architecture.

– 3-way SLI Support – The leading graphics technology provides the world's fastest gaming solution.

– NVIDIA PhysX(TM)-Ready – Onboard physics processing offers dynamic, life-like game environments for a more intense gaming experience.

– DirectX(R) 10 Support – Full support for Shader Model 4.0 brings cinematic effects and excitement to the leading next-generation games.

– 16x Anti-aliasing Technology – Reduce jagged edges for a smoother image and more immersive gaming.

– NVIDIA CUDA Technology: With the power of NVIDIA CUDA(TM) technology and the new CUDA runtime for Windows Vista, programmers can now offload the most intensive processing tasks from the CPU to the NVIDIA GeForce GTX 200 GPUs, putting the power of up to 240 multi-threaded processor cores to work.

"Alienware has always and will always equip our award-winning desktops with only the most advanced components available," says Marc Diana, Product Marketing Manager for Alienware. "That's why we're thrilled to offer the Area-51 family of desktops with the GeForce GTX 280 graphics card. The combination of Alienware's expert engineering and the world's most powerful GPUs creates an unbeatable gaming experience."

"Alienware desktop PCs are the perfect vehicle for our new GeForce GTX 280 GPU," said Ujesh Desai, general manger of desktop GPU business at NVIDIA. "We are excited that Alienware's customers will be able to push the graphics and gaming boundaries of their PCs, and experience a whole new level of visual computing."

"We've got industry-leading graphics, awesome performance and expert engineering," remarked Diana. "That's why hardcore gamers love us, and we definitely want to keep returning that love by giving them more of what they want."

For more information about Alienware desktop systems with the new NVIDIA GeForce GTX 280 GPU, please visit: http://www.alienware.com/GTX.