Alienware Area-51 & Dell XPS gaming PCs get Core i7 CPUs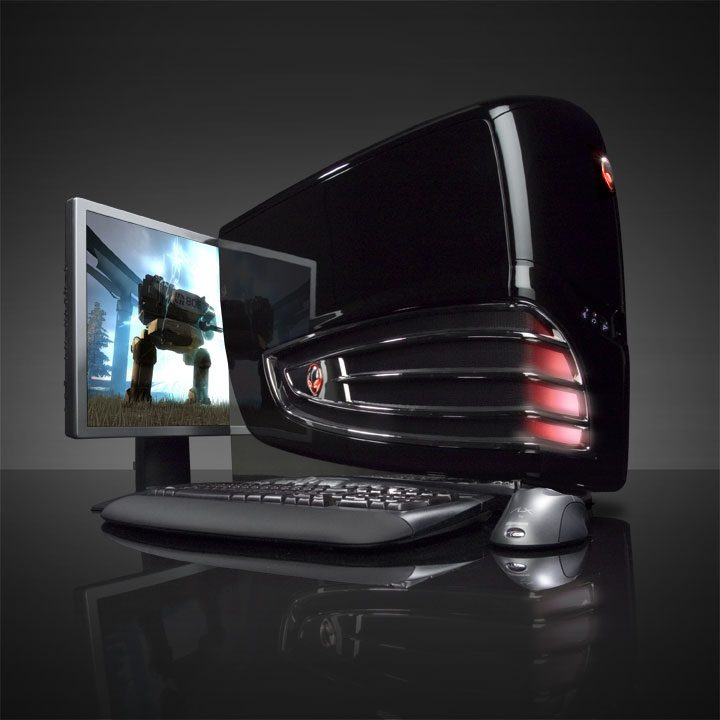 Dell have announced three new gaming PCs powered by Intel's Core i7 processors.  The Alienware Area-51 X-58, Alienware Area-51 ALX X-58 and the Dell XPS 730x all have a choice of Core i7 920, 940 or 965 Extreme CPUs, with the two Alienware systems offering up to 12GB of triple channel DDR3 RAM while the XPS can be specified with up to 6GB.
Each system has a choice of single or dual ATI or NVIDIA graphics cards, complete with ATI CrossfireX and NVIDIA SLI support, together with multiple single or dual-drive storage options.  Each offers support for RAID 1, 0 and 1+0, for a maximum of 2TB in the XPS or 4TB on the Alienware PCs.  Alienware buyers also get a choice of 750, 1000 or 1200-watt power supplies.
The Alienware Area-51 X58 starts at $1,649 with a Core i7-920 ($500 to upgrade to the i7-940; $1,200 for the i7-965 Extreme), while the Area-51 ALX X-58 starts at $3,699 with a Core i7 940 ($700 for the i7-965 Extreme).  Meanwhile the Dell XPS 730x starts at $1,999 with a Core i7-940 ($1,171 for the i7-965 Extreme).  All are available to order now.
Press Release:
Dell Gaming Launches Three All-New Systems Featuring Intel® Core™ i7 and Core i7 Extreme Processors

MIAMI –(Business Wire)– Nov 17, 2008 Dell Gaming brings unprecedented speed and performance with the launch of the Intel® Core™ i7, offering users the world's most powerful processors on three all-new extreme gaming desktops; the Alienware Area-51® X-58, Alienware Area-51 ALX X-58 and the Dell XPS 730x. By incorporating Intel's breakthrough new microarchitecture into these three dynamic systems, Dell Gaming delivers a revolutionary leap in in-game performance. The Intel Core i7 processor generates a greater number of instructions per clock cycle, enhancing the systems' simultaneous processing capabilities. This translates into improved physics, greater environmental interactivity, more intelligent AI and an overall boost in the immersive, real-to-life experience hardcore gamers demand.

The News

Available today at www.alienware.com/X58 and www.dell.com/gaming, the Alienware Area-51 X-58 and ALX X-58 feature up to 12GB of triple channel DDR3 memory, while the XPS 730x offers up to 6GB. All three systems utilize the all-new Intel QuickPath Architecture to speed up communication between the processor and components throughout the systems. This delivers faster load times between game levels without sacrificing background applications such as game utility packages, surfing the Net or downloading movies and music. With a performance increase of over 20 percent compared to the previous generation platform, Intel Core i7 processors help these rigs crank out maximum benchmarks at peak game settings.

In addition to this aggressive performance, the Area-51 X-58, Area-51 ALX X-58 and XPS 730x feature Dell Gaming exclusives such as:

Alienware AlienFX® customizable lighting controls: Allows gamers to customize the system looks with software-controlled multi-zone lighting. Includes event-driven activities, like changing automatically when programs are launched or email is received.

Alienware Command Center: Advanced user controls in a centralized, user- friendly access port for exclusive applications such as AlienFX® lighting and AlienFusion power management. (Alienware Only)

XPS internal theater lighting for "under the hood" activities: a series of battery powered LEDs automatically light the interior when the side panel is removed. (XPS Only)

Dell Gaming's bold, signature case designs, giving gamers maximum customization and an intense, immersive user experience.

Gaming enthusiasts will be able to configure Dell gaming systems to meet their unique specification with options like:

Air-cooled or AlienIce™ or H2C high-performance cooled CPUs and chipsets

Video card solutions from both ATI and NVIDIA, and all systems are ATI CrossfireX™ and NVIDIA SLI-ready.

Multiple single and dual hard drive options, with support for RAID 1, 0, and 1+0 (up to 2TB on XPS, 4TB on Alienware).

Choice of 750, 1000, 1200-watt power supply (Alienware only)

With Intel Core i7 processors, you get the advantage of:

Intel 45nm Technology – delivers higher speeds, enhanced efficiency and improved thermal management

Intel QuickPath Architecture – utilizes an on-board memory controller to move beyond the capabilities of the FSB and enjoy the full benefits of multi-core and microarchitecture-based CPUs

Intel Hyper-Threading – enables Windows to deliver eight-threaded performance capability on four cores

64-Bit OS Ready – processes double the information of 32-bit-based systems, increasing responsiveness and maximizing your hardware's potential

Intel Turbo Mode – shifts the processor into a higher gear for mind-blowing performance without a heat penalty

The Quotes

"By incorporating the revolutionary capabilities of Intel Core i7 and Core i7 Extreme Edition processors into the Alienware and XPS lines of gaming systems, Dell Gaming continues to lead the industry in delivering performance levels and in-game benchmarks that shatter all previously perceived limitations," says Arthur Lewis, head of Dell gaming group.

"Intel Core i7 processors represent the next stage in the evolution of desktop performance," says Doug Parker, Intel's Director of Marketing for America's Sales and Marketing Group. "By combining this dramatic technology with the expert engineering of Alienware and XPS systems, Intel and Dell are redefining gamers' expectations for power and efficiency."

For more information on Intel Core i7 processors in Alienware and XPS systems, please visit: www.alienware.com/X58 and www.dell.com/gaming.