Alienware Area-51 ALX gets 4GHz Core 2 Extreme overclock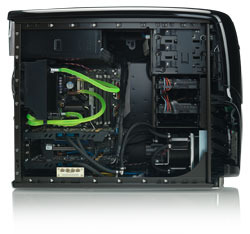 If Acer thought rivals Alienware would take one look at their new Predator gaming PC and run for the hills, they've another thing coming.  Alienware have dragged their already-incredible Area-51 ALX back into the lab and subjected it to some serious surgery.  We're not talking mere botox, either: how about a 3.2GHz Intel Core 2 Extreme QX9770 overclocked to 4.0GHz, 4GB of DDR3 RAM and dual ATI or NVIDIA graphics cards.
Alienware are describing the 4GHz overclock as the chip's "maximum stable output", and they've slapped liquid-cooling in there to stop the whole rig from melting down and dripping through the cracks in your desk.  Graphics options are an NVIDIA Quad SLI featuring dual NVIDIA GeForce 9800 GX2 cards or an ATI CrossFireX configuration with dual ATI Radeon HD 3870 X2 cards.  Blu-ray is an option, as is a 2TB 7,200rpm RAID-0 array; dual gigabit ethernet comes as standard.
If you're looking to join Alienware in sticking two fingers up at Acer, however, there's an expensive entry fee.  The 4GHz overclocked ALX is priced starting from $5,549, but it's ridiculously easy to get to $7,679+ when you start maxing out the RAM, picking the NVIDIA Quad SLI graphics and Blu-ray.  That's before you start considering SSD storage and monitors!
[via Business Wire]