Alieno Arcanum hypercar claims 5,221hp and 303mph top speed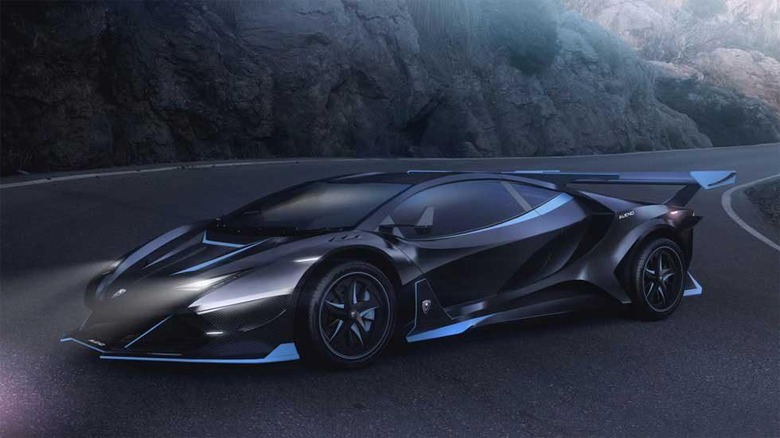 It seems like the world is awash with insanely fast hypercars today. We have the Agera RS hitting over 270mph and now we have a car from a Bulgarian company called Alieno claiming a top speed of 303 mph. The car is called the Alieno Arcanum and the concept images look fantastic.
This is an all-electric hyper car promising 3,840 kW, which is about 5,221hp. That horsepower is paired with 8,880-Nm of torque and promises to be able to hit that 303mph top speed thanks in part to a power-to-weight ratio of 2.64 hp/kg. Arcanum means "the secret of the secrets" which seems apt for a car with so much mystery.
This is a 2-door, two-seat hypercar using Graphene LiPo battery cells with three versions. The battery in street form has 180 kWh, track form has 120 kWh, and race form has 60 kWh. The street battery promises 1020km per charge. Street battery can recharge in 30 minutes while the race battery needs only ten minutes.
The manufacturer claims that there will be four versions with the RP5 5,221hp version at the top, RP4 will offer 4,351hp, RP2 2,610hp, and no mention of RP1 model. Each will be offered in three versions with STR or street, TRC or track, and RCE or race. Each will differ only in the standards/homologations met.
The STR version will be street legal globally, TRC has no restrictions normally required by homologations, and RCE versions are specifically modified for race series and could be modified to meet LMP1 Category for Le Mans or FIA World Endurance Championships. Th car uses pre-preg carbon fiber in its build and fully adjustable racing seats, AC, and fancy digital side mirrors. The car will start at 750,000 EUR for a RP2 and go up to 1,500,000 EUR for the RP5. Delivery time is 18-30 months and pre-orders are underway.
SOURCE: AllCarIndex