ALIEN: Covenant invites you to "Meet Walter" (with AMD onboard)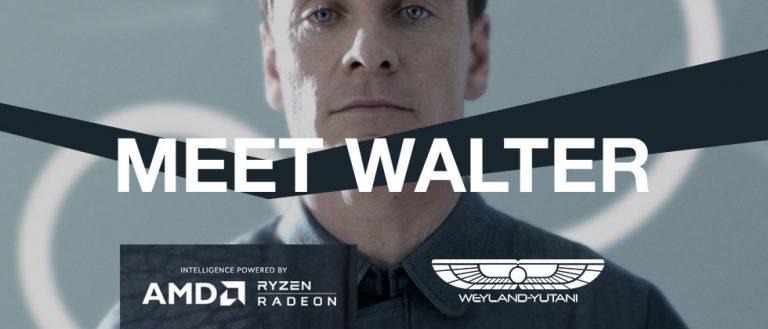 This morning a press release was sent out detailing the latest synthetic (read: humanoid robot) from Weyland-Yutani. This synthetic's name was Walter, and it acted as a different version of the robot we saw in Prometheus – then called David. Oddly, it would seem that this "Walter" version is powered by the processing technology of AMD, a company which exists here in the present.
In our chat with the actors back in June of 2012 for Prometheus, the actor who played David had a bit to say about his role. Michael Fassbender, that is, spoke about his inspirations for portraying the role of a robot. "It was kind of David Bowie – The Man Who Fell To Earth – Sean Young – Blade Runner – Lawrence of Arabia of course, Peter O'Toole, and Dirk Bogarde, and Greg Louganis," said Fassbender, "That kind of combo, put all those things together and David came out of that."
To show off David before Prometheus was released, several videos were produced. Several videos showed his features as if David were a product to be purchased. Indeed that is what he ended up being – sort of.
And now it's time to Meet Walter, as it were. This video is somewhat similar to its predecessor – and without a doubt has one in mind with the other. This video preview / preparation for the film ALIEN Covenant was conceived by Ridley Scott and 3AM, directed by Luke Scott, and produced by RSA Films.
From the press release for this model, we have the following bit of information: "Walter is the world's most advanced synthetic companion, designed to help you achieve a better human experience. Each model is individually calibrated to serve its owner's unique set of needs and preferences. Intelligence powered by AMD, Ryzen and Radeon."
That's a bit intense – and sort of impossible unless AMD plans on using the same brand names WELL into the future. And AMD decides to go big in artificial intelligence – which it very well could. It's not clear whether lines like "Engineering Intuition by RADEON Instinct" will be in the film, but they're certainly here sponsoring the pre-roll videos.
ALIEN Covenant will be released to theaters on May 19th, 2017. This film features actors Michael Fassbender, Katherine Waterston, Billy Crudup, Danny McBride, Demián Bichir, Carmen Ejogo, Amy Seimetz, Jussie Smollett, Callie Hernandez, Nathaniel Dean, Alexander England, and Benjamin Rigby, and is directed by Ridley Scott.