Alexa Guard Gives Your Home An Extra Layer Of Security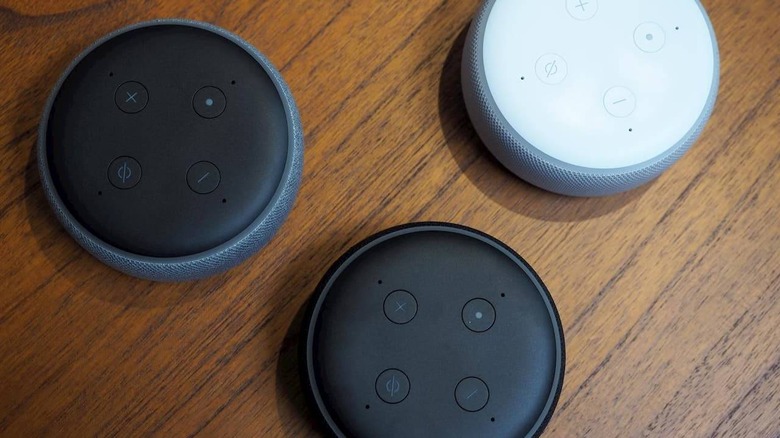 We may receive a commission on purchases made from links.
During its Alexa event back in September, Amazon announced a new home security feature called Alexa Guard. With it, Amazon said, you could turn your Echo devices into something of a watchdog while you're away, having them monitor for the sound of breaking glass or alerts from your smoke and carbon monoxide detectors. Today, a bit more than half a year after it was first revealed, Alexa Guard is starting its roll out to Echo owners.
Alexa Guard probably can't serve as a total replacement for home security systems, as it's somewhat limited in what it can monitor. When it does detect the sound of breaking glass or the alarms from your detectors, you'll be sent a 10-second audio sample that can be played through the Alexa app. You can even drop in on an Echo speaker and listen to what it's hearing to get a better idea of what's going on.
To turn on this monitoring, you'll need to set Alexa into "Away mode" by saying "Alexa, I'm leaving." If you have smart lights connected to your Echo devices, Alexa can turn them on and off to make it look like someone's home, but that and sound monitoring are the extent of Alexa Guard's capabilities when used on its own.
If, however, you have security systems from ADT Pulse, ADT Control, or Ring Alarm, you can pair Alexa Guard with them to get more out of the feature. Though Amazon doesn't provide professional monitoring services, you can choose to forward Alexa Guard's smart alerts to ADT and have them take action or, if you're subscribed to Ring Protect Plus, contact emergency services through the Ring app when Alexa Guard detects something that needs addressing.
Alexa Guard is available today across Amazon's line of Echo devices as a free service. Amazon has set up a page dedicated to Alexa Guard on its website, which features smart lighting, Ring Alarm, and ADT bundles that will get you outfitted to use Alexa Guard either with or without a professional security system. That page also has instructions on how to set up Alexa Guard if you've already got Echo devices dotting the rooms in your house, so it's a pretty good resource for those looking to get the ball rolling on the basic monitoring Alexa now offers.