Alesis outs USB Q61, QX61, and QX25 MIDI keyboard controllers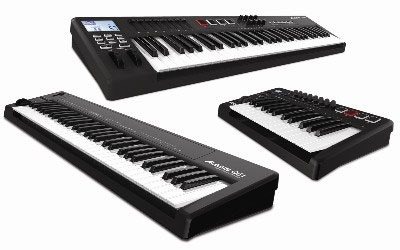 A company called Alesis has unveiled three new MIDI keyboard controllers for people that like to make music with their computers. The controllers were all unveiled at NAMM going on in California right now. Surprisingly, unlike most of the gear, we have talked about from the show, these don't integrate the iPad.
All the USB controllers connect directly to a Mac, PC or iOS device with the correct adapter. The Q61 has 61-notes and will work with just about any software and hardware device. The device has velocity sensitive keys and a five-octave range and can be used at home or on stage. The QX25 is a 25-note offering, and the QX61 has 61-notes.
Both have pads for drumbeats; have filter knobs and volume adjustments. The keys are also velocity sensitive. All three of the keyboards will be available in Q2. Pricing is $149 for the Q61, $199 for the QX61, and $99 for the QX25.