Alesis MasterControl audio interface & control surface launches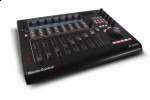 Audio-specialists Alesis have released their latest combination audio interface and control surface, ideal for musicians looking to incorporate real-life instruments with computer-based synths and mixing software.  The MasterControl connects via FireWire and offers 44.1 to 192kHz recording via multiple inputs, as well as dozens of assignable controls including nine 100mm motorized faders, a jog-wheel, and eight 360-degree pots.
There's almost ridiculous scope for hooking up instruments, including two XLR inputs with phantom power and channel inserts and six TRS line inputs.  Alternatively, the optional S/PDIF and dual S/MUX ADAT Lightpipe input boards offer twenty six simultaneous inputs.  Output, meanwhile, is handled by six analog outs (configurable as 5.1 surround, three sets of stereo pairs or six discrete outputs), dedicated speaker switching for listening on alternative speakers or even in different rooms, and a stereo headphone output.
The Alesis MasterControl audio interface and control surface is available now, with an MRSP of $1,299 but a far lower street price of $899.99.  It comes with Steinberg Cubase LE 4 and Ableton Live Lite 7, but is compatible with most music recording software.
Press Release:
ALESIS MASTERCONTROL AUDIO INTERFACE AND CONTROL SURFACE NOW AVAILABLE

High-Quality All-In-One Studio-Control Device Now In Stores

Cumberland, R.I. (Dec. 29, 2008) – Alesis, the world's leading manufacturer of professional audio equipment and studio electronics, announces that the MasterControl audio interface and control surface is now shipping. MasterControl will be on display at the 2009 NAMM Show in Anaheim, Calif., January 15 – 18, 2009 at the Alesis booth, number 6400.

MasterControl is a professional audio interface and recording control surface, providing engineers with 44.1 – 192kHz-recording capability via ultra-fast, low latency FireWire and full-featured control of HUI-compatible DAWs and external MIDI devices.

MasterControl contains a broad swath of input and output connectivity, empowering studio owners and producers to connect nearly any source, processing or monitoring equipment. The input section consists of two XLR inputs with phantom power and channel inserts, six TRS line inputs and extensive expansion capability. Twenty six simultaneous inputs are possible with the optional S/PDIF and dual S/MUX ADAT Lightpipe inputs. Six analog outputs are configurable for use with 5.1 surround, three sets of stereo pairs or six discrete outputs. MasterControl offers dedicated speaker switching, enabling mix engineers to dynamically select between multiple monitors to check their mixes on different speakers or in different rooms. A stereo headphone output is also provided for an additional mix reference.

Each channel contains dedicated Solo, Record Enable, Mute and Select buttons for instant access to the most essential channel functions. The large, multifunction jog wheel can be used to shuttle, zoom and enter data. Nine 100mm-motorized faders and a dedicated transport-control section provide guess-free access to the most crucial recording operations. Two banks of eight assignable buttons enable users to customize functionality for commonly used actions such as markers, loop points and automation modes.

Eight 360-degree assignable virtual potentiometers with three banks each enable engineers to control 24 different parameters for extensive control of nearly any DAW. Removable, customizable templates provide a visual overview of all preset operations. All presets are fully editable and configurable.

Designed as a complete solution for studios' recording and mixing needs, MasterControl contains a talkback microphone, a complete MIDI interface and a Preview button enabling review of knob, button and fader settings before sending them to the DAW software.

MasterControl comes bundled with two award-winning software applications for recording and sequencing. Steinberg Cubase LE 4 and Ableton Live Lite 7 handle all recording, editing and performance tasks and are compatible with most other popular music software.

"MasterControl is the missing link for professional and home studios alike," said Jim Norman, Product Manager. "It's quite simple in concept: you plug it into your computer, plug in your sources and monitoring system and you're ready to record. We are even including two of the most popular software products to truly complete the system."

MasterControl is available from pro audio and musical instrument retailers. It has an MSRP of $1,299 and a street price of $899.99.

# # #

About Alesis

Alesis manufactures a full line of professional audio and musical instrument products capitalizing on its strengths in digital, analog, semiconductor, and transducer technologies. Alesis delivers revolutionary product solutions to the music and audio production industries. For more information, visit www.alesis.com.