Alesis DM6 digital drum kit for Rock Band upgraders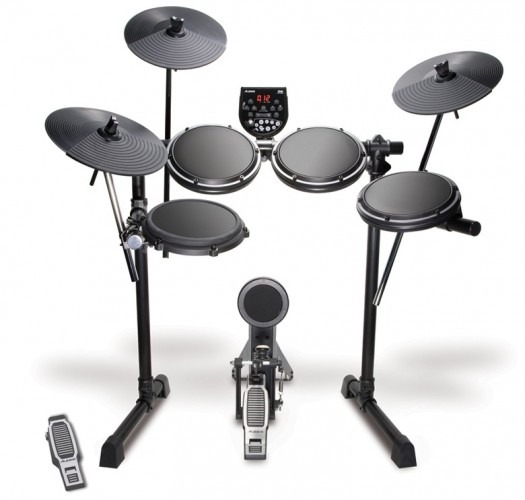 Lured into a frenzy of drumming thanks to Rock Band and its bashable peripherals?  Ready to trade up to a real instrument?  Alesis may have the answer for those who'd like a little more freedom with their drum kit but who still have family or housemates not keen to be kept up all night, in the shape of the Alesis DM6 Kit.
The kit consists of four drum pads, three cymbals, a bass drum pedal and hi-hat pedal, together with a sound module with 108 percussion sounds.  Since bashing a real drum in different places will result in a different sound, Alesis' dual-zone snare pad is included, which allows you to program different responses from each of the zones of the natural rubber head.  Keeping everything together is a heavy-duty aluminum rack.
Alesis have set up the DM6 to work with headphones or an amplifier system, or alternatively you can hook it up as a MIDI controller to a synth or computer; aux-in sockets allow you to play along with a CD backing track.  The Alesis DM6 Kit is available now, with an MRSP of $699 but an expected street price $200 less than that.
Press Release:
ALESIS DM6 ELECTRONIC DRUM SET NOW SHIPPING

Drum Set Features Natural Feel, Superb Sound and a Wide Range of Capabilities

Cumberland, R.I. (Sept. 24, 2009) – Alesis, the world's leading manufacturer of professional audio equipment and studio electronics, announces that the DM6 Kit, the most capable electronic drum set in its price class, is now shipping to retailers.

The Alesis DM6 Kit is an excellent choice in electronic drum sets for price-conscious drummers and aspiring players. The set features a completely new sound module with 108 quality drum, cymbal and percussion sounds. The DM6 Kit's pads feel natural and its hardware and rack system are rugged and high quality.

Like all Alesis drum sets, the DM6 Kit features extremely realistic playing surfaces. Drummers will feel right at home with the DM6 Kit's natural rubber drum and cymbal surfaces that were selected for their low vibration feedback. The five-piece kit features a dual-zone snare pad for two-sound compatibility. Players can dial in a snare drum sound in the center and a rim click, rimshot or other instrument such as a cowbell on the rim. The DM6 Kit also comes with three tom pads, an upright kick drum pad, hi-hat, crash and ride cymbal pads. Completing the set, the DM6 Kit includes Alesis hi-hat and bass drum pedals and a pair of drumsticks.

The brand-new DM6 module features a high-quality internal collection of drum, cymbal and percussion sounds. Drummers can edit and save drum kits for custom sound palettes. In addition to the sounds in the DM6 module, drummers can use the DM6 as a trigger-to-MIDI interface with drum-module software such as BFD, Toontrack or Reason for a limitless collection of sounds.

Drummers can play quietly with headphones or connect the DM6 Kit to an amplifier or PA system for full-volume performance. They can also connect an iPod or CD player and mix it in with the DM6's stereo input jack. The DM6 contains a metronome and sequencer with music tracks for playing along.

The DM6 Kit comes with a heavy-duty aluminum rack. The kit also comes with a full set of mounting hardware and cables.

"This drum set brings a new level of performance, feel and sound to its price class," said Jim Norman, Product Manager, Alesis. "The combination of the great quality of sounds, the play-along tracks, the metronome, the input for your iPod and the feel of the pads all together make the DM6 Kit a serious instrument."

The DM6 Kit is available from musical instrument and pro audio retailers with a U.S. Retail Price of $699.00 and an estimated street price of $499.00.