Alcatel Watch aims to low-end their smartwatch competition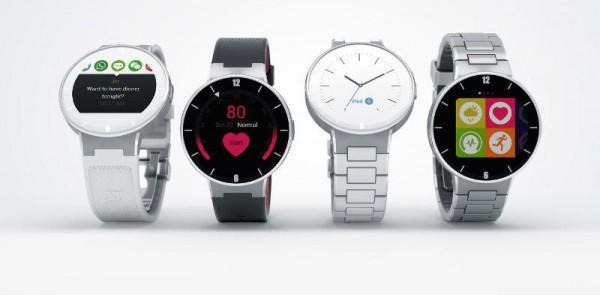 Wearable smart devices have not yet been known for extreme ease in ownership here in their early days on the market. Alcatel hopes to change the equation for cash exchanged for smart devices worn on your body with the Alcatel OneTouch Watch series. This series of devices works with very, very few details from the start – besides fancy hardware and the promise that you'll be able to connect to your Android device to make all the necessary readings and take photos, of course.
Alcatel suggests they're going to make smartwatches at "a fraction of the cost of competitors" while refraining from mentioning actual price points. It's likely they'll reveal pricing once their hype has fallen just a bit – but for now, we've got flashy hardware to look at.
The Alcatel OneTouch Watch works with the ability to "allow users to monitor daily activity" as well as connect to your Android device. With this Android connection, the watch will let users control music, take photos, and receive notifications.

It's not yet known whether or not this watch will be using Android Wear. Judging by the images shared by Alcatel so far, it could go either way.
Stick with us as we see Alcatel reveal their devices up close and personal at CES 2015. This event series begins this Sunday – follow along with SlashGear's CES coverage through our CES 2015 portal!