Alcatel-Lucent lightRadio promises tiny 2G/3G/4G cell base-stations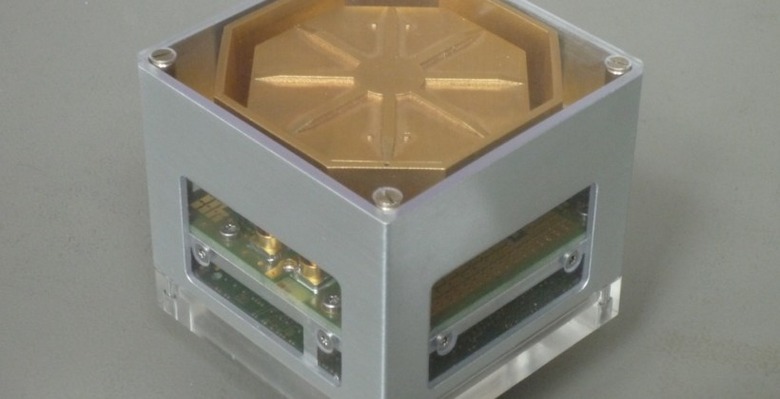 Cellular base-stations generally aren't all that interesting or visually endearing, but at least Alcatel-Lucent's new lightRadio technology promises to make them easier to ignore. Billed as a way to break down existing base stations into a combination of individual antenna and cloud-based components, rather than demanding multiple 2G, 3G and 4G antennas the lightRadio system has a single, 5cm cube with a software-defined radio.
That single radio supports 2G, 3G and LTE, and can be tuned to suit everything from 400MHz to 4GHz. It's connected to the rest of the system via a fiber optic broadband link, with power courtesy of a custom Freescale SoC, using new compression technology that reduces bandwidth requirements and allows everything to be crunched in an HP-powered cloud system of network controllers and gateways. Multiple cubes can be stacked to boost macro coverage.
In short, it's more flexible than traditional base stations, can be deployed in a smaller space, is up to 50-percent more power efficient and can be 50-percent cheaper, all the while doubling capacity. The first active array antennas will be launched in 2012, with more hardware in 2014, and Alcatel-Lucent envisage future setups using off-grid power (like localized wind or solar generators) together with microwave links to create truly independent coverage spots. Orange, Verizon and France Telecom have all expressed an interest, and Alcatel-Lucent says it's in planning with several carriers – including China Mobile – to roll out field trials.
[via Light Reading]
Press Release:
The Disappearing Mobile Masts and Towers

lightRadio™ – Solving Network Gridlock and Universal High-Speed Coverage

PARIS & LONDON, February 7, 2011 – The looming global gridlock in mobile communications promises to be averted following the launch today of pioneering technology which will remove the bottlenecks constraining mobile networks and help deliver universal broadband coverage.

Alcatel-Lucent (Euronext Paris and NYSE: ALU), the leading network technology group, has joined forces with industry partners to develop lightRadio™, a new system that signals the end of the mobile industry's reliance on masts and base stations around the world.

Ben Verwaayen, Chief Executive Officer of Alcatel-Lucent, said: "Today's and tomorrow's demands for coverage and capacity require a breakthrough in mobile communications."

He added: "lightRadio will signal the end of the basestation and the cell tower as we know it today."

Governments and regulatory bodies are expected to welcome the technical development, which will help meet targets for universal broadband access by laying the foundation to address the so-called "digital divide."

Other major benefits from lightRadio™ include:

• Shrinking the carbon footprint of mobile networks by over 50%

• Reducing the Total-Cost-of-Ownership of mobile operators by up to 50%

• Improving end user services by significantly increasing bandwidth per user thanks to the deployment of small antennas everywhere

Wim Sweldens, President of Alcatel-Lucent's Wireless Division said: "lightRadio will help mobile operators evolve their networks to address the mobile broadband deluge."

lightRadio represents a new approach where the base station, typically located at the base of each cell site tower, is broken into its components elements and then distributed into both the antenna and throughout a cloud-like network.

lightRadio also shrinks today's clutter of antennas serving 2G, 3G, and LTE systems into a single powerful, Bell Labs-pioneered antenna that can be mounted on poles, sides of buildings or anywhere else there is power and a broadband connection.

The innovation coincides with growing demand for third-and-fourth generation mobile networks and devices, involving the mass adoption of wireless television services and other forms of broadband content. The total addressable market for the radio technology necessary to serve such networks and devices is expected to exceed €100bn1 over the next seven years.

Alcatel-Lucent announced the lightRadio™ technical specifications and launch timetable at an industry event in London today. Visit www.alcatel-lucent.com/lightradio for product press release and link to event replay (available at 2:30 GMT).

[1] This is the total addressable market for multi-technology radio solutions that consist of radio access base stations that simultaneously support 2G, 3G, and LTE, and multiple frequencies in the same platform