Alcatel brings 5 cheap Android phones and 2 tablets to MWC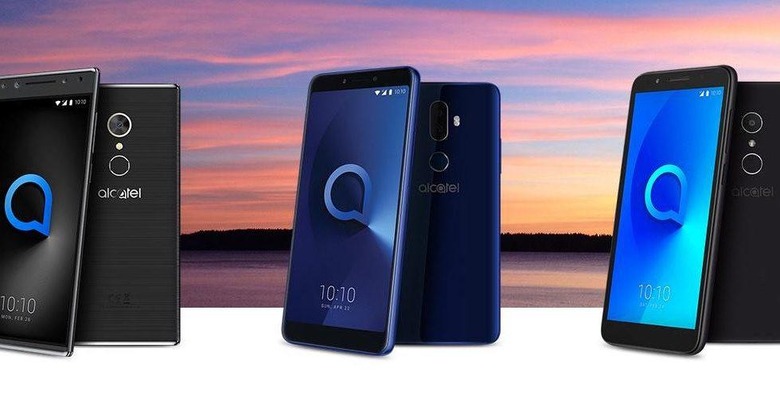 Alcatel has revealed five new Android smartphones and a pair of new tablets at MWC 2018 today, including the first to run Android Oreo Go Edition. The line-up – all of which focuses on the budget end of the market – plays mix and match with cameras and fingerprint sensors, with select models having twin cameras either on the front or the back. As for the tablets, they're some of the cheapest ways to get Android 8.1 Oreo on a big screen that we've seen so far.
At the top of the tree is the Alcatel 5, a 5.7-inch 18:9 aspect smartphone with a brushed metallic unibody and 13-megapixel f/2.0 front-facing camera. Indeed, Alcatel even found space for a secondary 5-megapixel camera on the front, with a 120-degree super wide-angle lens and a dedicated LED flash. The Alcatel 5 automatically switches between the two when it spots more than one person in your selfie.
The rear camera is 13-megapixels, and can capture 1080p video. There's a fingerprint sensor and an MTK6650 oct-core processor with 3GB of memory; storage is 32GB, which can be doubled with a microSD card. It's already arriving on shelves now, in black or gold, for 229.99 euro ($284).
Next comes the Alcatel 3 Series, of which there are in fact three models. All have an 18:9 aspect ratio display, fingerprint sensor, and Alcatel's facial-recognition security system. The Alcatel 3V has the biggest screen of the bunch, a 6-inch 2160 x 1080 panel, while the Alcatel 3X gets a 5.7-inch 1440 x 720 screen. Finally, the Alcatel 3 is smallest of the trio, with a 5.5-inch 1440 x 720 panel.
The 3V packs a 12-megapixel camera with a secondary 2-megapixel sensor for portrait-style background blur shots, plus post-capture focus changes. The 3X and 3, meanwhile, get a 13-megapixel main camera and a 5-megapixel 120-degree super-wide-angle camera too. All have a 5-megapixel front camera with an LED flash.
The Alcatel 3V is on sale now, priced at 189.99 euro ($234), in black, blue, and gold. The Alcatel 3X and Alcatel 3 each arrive next month, priced at 179.99 euro ($222) and 149.99 euro ($185) respectively.
Most affordable – but arguably most interesting – of the smartphones is the Alcatel 1 Series, and the Alcatel 1X specifically. It's priced from 99.99 euro ($123) for the single-SIM version and ten euro more for the dual-SIM, and runs Android Oreo Go Edition on an MTK6580 processor with 1GB of RAM. Alcatel is making plenty of noise about it having an 18:9 aspect display, though the 5.3-inch panel only runs at 960 x 480 resolution.
There's an 8-megapixel camera on the back and 5-megapixels on the front. Alcatel says that the 1X will come in multiple flavors, some of which will have a fingerprint sensor, too. However the key will be the pared-back OS, with Google targeting Go Edition phones at buyers on a budget who'll have access to resource-sipping versions of apps like Google Maps and Gmail.
What's notable is that all of the Alcatel phones are aimed at the mid-range segment at most: indeed, the most expensive will top out at 229.99 euro, or the equivalent of $284, when it goes on sale in April. That's likely a strategy by parent company TCL to better differentiate between Alcatel and BlackBerry, its two Android phone brands. By giving the low/mid-end to Alcatel, it leaves the upper tiers free for BlackBerry to play.
As for the tablets, the Alcatel 1T 10 and 1T 7 each run Android 8.1 Pro with a 10.1-inch or 7-inch display, respectively. The 1T 10 tips the scales at 415 grams and has a 4,000 mAh battery for 8hrs of use. There's 16 GB of onboard storage, a microSD slot, and an optional Bluetooth keyboard cover. It'll be 99.99 euro ($123) when it goes on sale in Europe, Latin America, and Asia in Q2.
The Alcatel 1T 7, meanwhile, is even lighter: just 245 grams and 9.15 mm thick. It has a 2,580 mAh battery for 7 hours of use. It'll go on sale at the same time as the larger model, priced at 69.99 euro ($86) and in the same regions.