Albert Einstein's 'pungent' leather jacket auctioned for $144k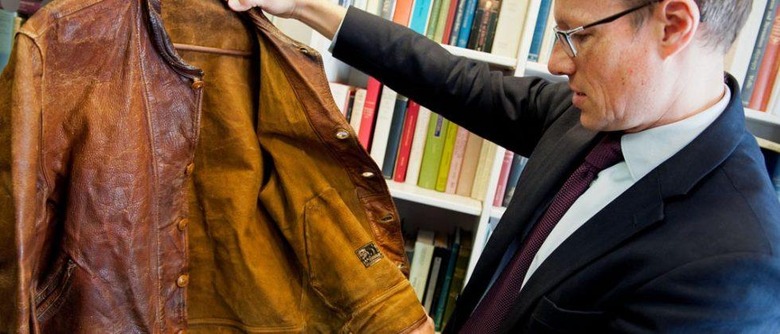 Albert Einstein's leather jacket has been sold at auction for a little more than $144k. News about the planned auction, which happened through Christie's, first surfaced early this month. Three days ago, the auction house detailed the jacket for prospective bidders and curious screen shoppers, saying, among other things, that it is 'pungent.'
There are many photos of Einstein wearing this jacket from the mid-1930s; the jacket itself was made by Levi Strauss, and is visibly aged upon first glance, though it doesn't look tattered or worn. According to the auction house, Einstein's pipe smoke can still be smelled on the jacket, not surprising given his voracious smoking and the extent to which he wore the jacket.
It is thought Einstein came into possession of the leather jacket some time before his June 25, 1935 holiday in the Bahamas, though it isn't clear when exactly he acquired it. The jacket was apparently used as a way to reduce Einstein's material needs, something he saw as a way to increase his level of freedom...essentially freeing him from the burden of excessive materialism.
Einstein's jacket was sold along with his pocket watch, as well as a building blocks set from his childhood. The watch dates from around the year 1900, according to Christie's; it sold for $348,416 USD, while the building blocks set sold for $81,688 USD.
SOURCE: Christie's