Albatron MultiTouch 22-inch LCD for Windows 7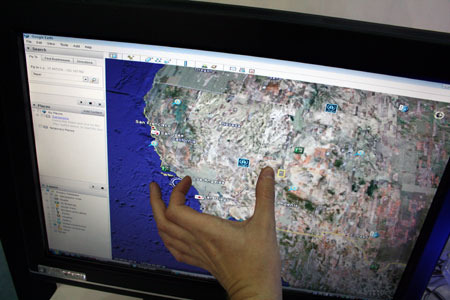 After Microsoft confirmed that the upcoming Windows 7 OS would have native MultiTouch support, interest in large-scale touchscreens has flourished.  That's good news for Albatron, who have shown up to Computex with a 22-inch LCD capable of recognising multiple points of touch contact.  It works using two sensor bars, one on each side of the screen, and Albatron insist that adding MultiTouch in this way adds only 20-percent onto the cost of a standard LCD.
The demo panel runs at 1680 x 1050 resolution.  However Albatron claim not to be limited to relatively small screen sizes with their technology: any panel above 24-inches merely needs a third sensor bar, positioned at the top bezel.  Currently the system runs on XP and Vista, but the company is obviously excited by the Microsoft announcement and it will probably take Windows 7 for domestic large-scale MultiTouch to take off.
"[As] far as we could see, controlling an operating system is a breeze. You simply only use your fingers to start and close applications. Bill Gates' demonstration may have been rather underwhelming, but seeing a multi-touch LCD actually in front of us made it clear that this technology works much better than we expected. Playing around with Google Earth was a blast" Theo Valich, TG Daily
There's no confirmation on what Albatron's production plans are, sadly.  They could feasibly begin marketing the displays themselves, or instead licence the technology to others.  Pundit reaction to the Windows 7 news was mixed, with many doubting the relevance of MultiTouch on a typical system, but I'm very much looking forward to having affordable large-scale touch capacity on my desk.