Albatron 42-inch multitouch display gets tested [Video]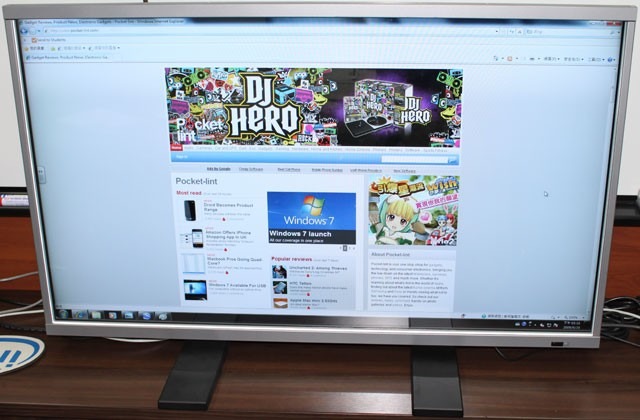 If you thought HP and Dell's Windows 7 compatible multitouch monitors were desk-dominating at 21.5-inches, go away and fetch a cold-compress.  Albatron have been working on their latest optical touch display, and it's a full 42-inch whopper promising 1080p resolution, multitouch and gesture support.  mobile+notebook grabbed some hands-on (literally) time with the behemoth.
Video demo after the cut
The system works using twin CMOS cameras in the top bezel, together with reflectors at the bottom, and can track multiple fingers, stylus and pretty much whatever you stab at the screen.  Benefits over a traditional touch-panel are that it's more cost-effective to scale up to larger displays; connectivity is via a single USB plug.
Unfortunately, Albatron are targeting the 42-inch model at businesses rather than home consumers, and so the display is priced well above what's realistic for all but the most luxury of home offices.  Still, they've a 21.5-inch 1080p consumer version, using the same optical touch system, which is priced at around $450; they might have to reconsider their pricing, however, what with Dell and HP's comparable displays coming in at under $300.