Alaska Airlines wants you to wear a VR headset while you fly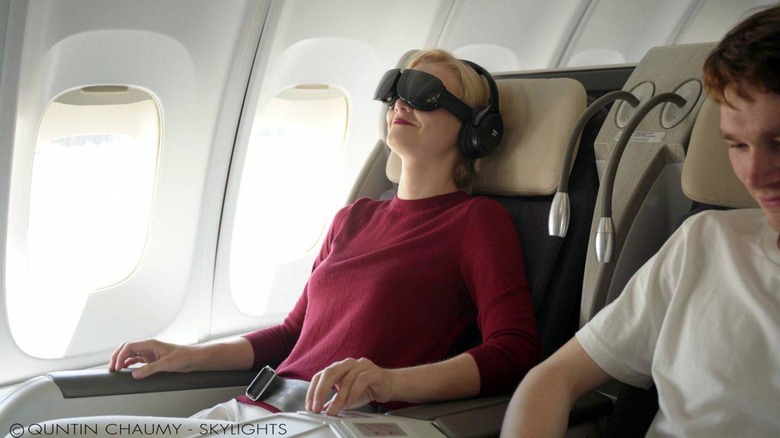 Generally speaking, air travel is a pretty dull affair that is nonetheless a reality of life for a lot of people. Alaska Airlines announced today that is has a new way for some flyers to pass the time while they're in the air, as it has outfitted some of cross-country routes with VR headsets. More specifically, Allosky headsets from SkyLights will allow Alaska Airlines passengers to watch some immersive VR movies and short films as they fly.
For now, this is being launched as a pilot program, so even if you frequent Alaska Airlines, there's a good chance you won't be able to experience VR at 30,000 feet – at least not yet. Alaska Airlines says that VR headsets will be offered to first-class passengers flying its Seattle-Boston and Boston-Los Angeles routes, which means these Allosky headsets will be a rare sight on the company's planes.
Still, assuming this pilot program goes well, we could see Alaska Airlines extend its VR offerings to more flights, though whether or not we'd ever see it expand beyond being a first class perk is another question entirely.
If you do happen to hop on one of those cross-country flights as a first class passenger, you'll be able to use an Allosky headset to watch movies like Three Billboards Outside Ebbing, Missouri, Ready Player One, and Ferdinand. Movies will be available in 2D and 3D, and the headsets will also be pre-loaded with a selection of 360-degree short films. The Allosky boasts a resolution of 1080p per eye, and it has a slim design that seems centered around taking up as little space as possible.
So, we'll see how this pilot program at Alaska Airlines goes. SkyLights seems to focus its entire business on outfitting passenger planes with VR headsets for in-flight entertainment, so if this test goes well, it could mean big things for the company. It may not be long before we're all wearing VR headsets as we're whisked away to our destinations, so stay tuned.