Akolyt smart sensor for cars wants to create "superdrivers"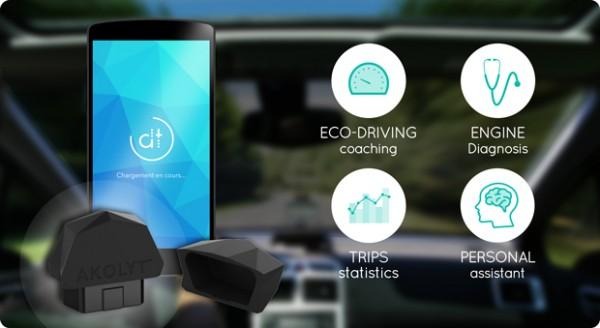 Like most other areas of life, driving is becoming an increasingly "smart" activity, mostly due to the connected nature of modern life. We've seen some systems crop up lately that aim to provide drivers with more data on their driving habits, and among them is the new Akolyt, a smart sensor that plugs into a car's OBD connector and gathers data on all things vehicular. That data is then shuttled to the driver's smartphone where it is laid out in simple to digest blocks of data, including trends that show over time.
Akolyt is essentially an activity tracker for one's car; it monitors for any warning codes that are being thrown, statistics on trips like mileage and such, and provides coaching and assistance, all of which is done through its related smartphone app. Driving efficiency, for example, is shown using a gauge that'll ideally result in the driver becoming more efficient over time.
The system also makes it easy to keep tabs on gas usage over time, eliminating the need to record details in that little glove box book; it also keep tabs on the routes one drives. Maintenance schedules for the car, any appointments you set with a mechanic, and more are also presented via the app.
Akolyt is a French product being produced in France. The company behind it is seeking funding on Indiegogo, where they hope to raise €30,000 and have several stretch goals, one of which includes adding support for US cars. So far they have raised €23,930 in funding with 35 days remaining, which makes it likely that European backers will be getting access to it later this year. Whether the €500,000 need to add US compatibility will be hit is yet to be seen. The early bird unit is priced at €79 and ships in September.
SOURCE: Indiegogo