AKG Perception 120 USB microphone promises pro-audio podcasts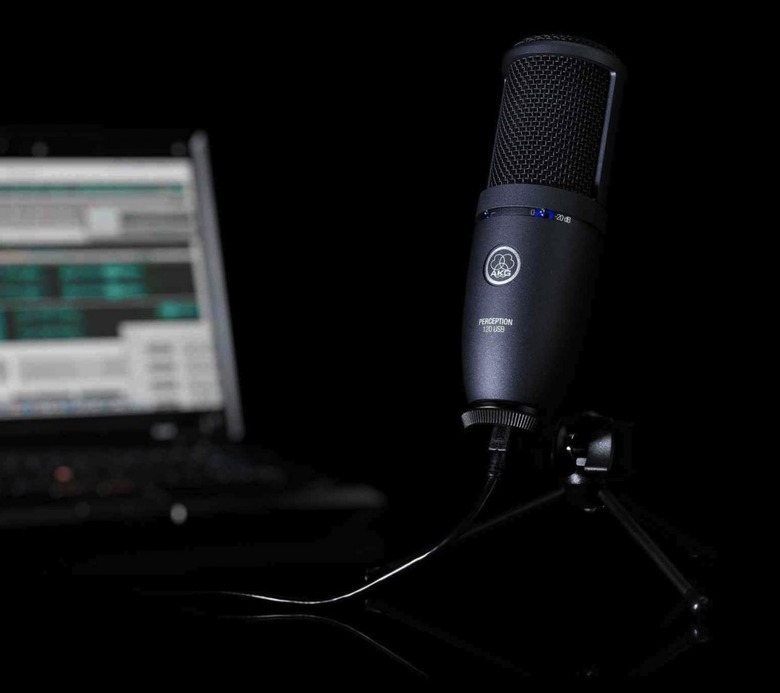 Pro-audio manufacturer AKG are looking to the podcasting crowd with their latest microphone, the Perception 120 USB, and hoping that the promise of studio-quality sound will lure them in.  The Perception 120 USB hooks up – as you'd expect – via a single USB connection and contains a 24-bit, 128x oversampling analog to digital converter.
It's compatible with Windows 7, Vista, XP and Mac OS X, and uses a two-third inch condenser capsule paired with a low-mass diaphragm.  There's also an integrated pop filter, switchable bass-cut filter and an attenuation switch.
The AKG Perception 120 USB microphone should land later this month; we're waiting to hear back from the company on pricing.  It comes with the USB cable, a table tripod stand and a swivel mount.
Press Release:
AKG's New Perception 120 USB Microphone Brings Studio Quality Performance To The Desktop

VIENNA, Austria – In an introduction that couples AKG's studio mic performance with desktop convenience and versatility, AKG presents the Perception 120 USB Microphone at both the PLASA and IBC shows this September. The Perception 120 USB is the very first USB-equipped microphone from AKG, offering studio-quality sound performance without requiring any installation or drivers.

The Perception 120 USB is a real plug-and-play device that allows users to do podcasts, voiceovers, and studio-quality rehearsal-recordings quickly and easily. It is capable of working with Windows XP, Windows Vista and Mac OS X but also the new Windows 7. And for the price, it is one of the only USB microphones with an integrated high-quality Analogue-to-Digital Converter (24-bit, 128x oversampling) for convincing sound quality and low noise.

"The new USB-equipped Perception 120 USB microphones will extend AKG's successful Perception range," said Thomas Stubics, AKG's Product Marketing Manager for Recording and Broadcast. "With the widespread USB standard and its ease of use, this new model allows users without any recording experience to make professional-quality recordings from their home."

As of 2008, there are about two billion USB devices sold per year, and about six billion sold to date. The USB is a widely known interface for audio equipment like sound cards, active monitors, and outboard equipment, which makes the Perception 120 one of the most versatile microphones available. The Perception 120 includes a two-third-inch condenser capsule with a low-mass diaphragm delivering accurate sonic details an integrated pop filter that avoids plosives, a switchable bass cut filter, and an attenuation switch. The Perception comes complete with everything you need: a tripod table stand, a swivel mount and an USB cable.