Airdog ADII 'all-terrain' camera drone is for extreme athletes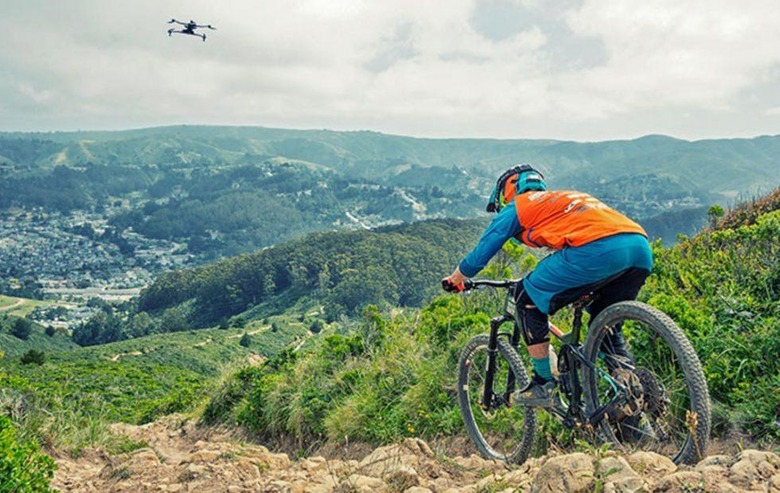 The AirDog team is back with another AirDog drone, this one being called the ADII. The original model launched on Kickstarter back in 2014, and the latest model is no exception, with the company again seeking funding on the crowdfunding website. The AirDog ADII resembles the original model, but comes with suitable upgrades and an overall design intended for extreme athletes — dirt bikers, mountain bikers, and more.
Consumer drones are quickly growing beyond their flimsy, limited ancestors to offer a variety of intelligent, robust features. This drone is equipped with LiDAR built-in, a distance sensor that will help it keep from colliding with the ground in instances of extreme elevation changes. That sensor is joined by a barometric air pressure sensor, GPS, and accelerometer, as well as the company's own algorithms for properly using the data these sensors provide.
The drone eliminates traditional joystick controls and replaces them with something the company calls AirLeash — using this, operators can trigger takeoff with a single button press. The drone will quickly make necessary in-flight adjustments and takes off. The AirLeash serves as a tracking device, and includes an easy-to-see LCD for making control decisions.
The latest AirDog is described as an all-terrain drone, and it includes a weather-resistant, durable construction to match. The drone is capable of handling wind conditions that range up to 30 knots, or about 15 meters-per-second. If all that sounds appealing, you can help support the drone by pledging on Kickstarter, where $1,199 will get you an early bird model. Shipping to backers is estimated to start this upcoming October.
SOURCE: Kickstarter