AirBridge out-streams AirPlay for impromptu iPhone sharing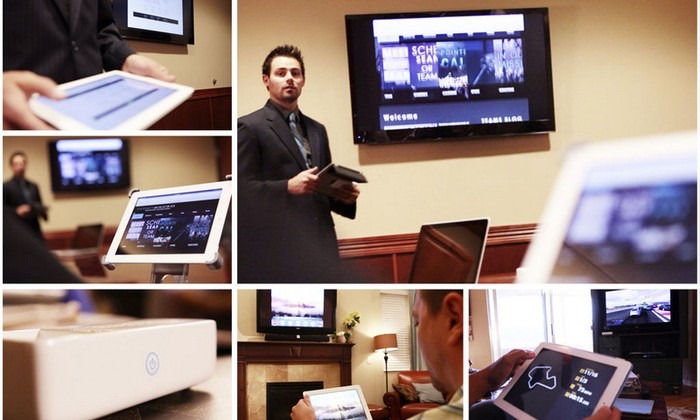 AirPlay Mirroring on the iPhone and iPad is great, but startup Artifex Touch thinks it has a better solution for impromptu presentations, media streaming, group working and more with its AirBridge. A portable wireless adapter that clips to an iOS device and your nearest TV or projector, AirBridge is fresh to Kickstarter and, with the help of a clever companion app, streams video, games, and presentations over WiFi, either to the base station or directly to another iOS device user.
The app automatically searches for other nearby users – it can even create its own peer-to-peer WiFi link – and allows you to drag and drop files onto that user's face (or into a group dropzone) to share files direct. You can send them the entire file in one go, or stream it to their iPhone or iPad display as a secondary screen, and the viewer can take snapshots of the presentation feed and annotate it. If there's no WiFi available, it'll fall back on Bluetooth instead.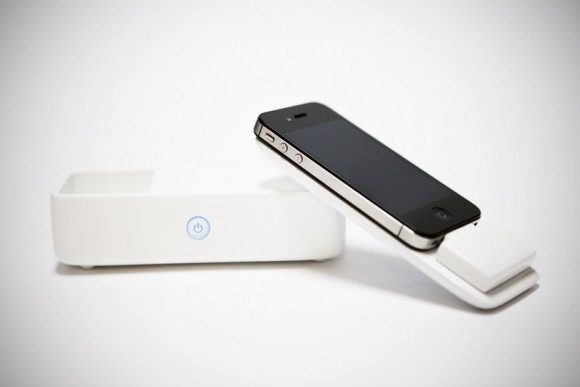 Two versions of the hardware are in the works: AirBridge Pro has HDMI, VGA, 3.5mm audio-out and USB 3.0, with a microUSB port for charging its 3hr battery (though 8hrs is the target, if the Kickstarter raises enough). It can record mirrored video – such as an impromptu presentation you broadcast from your iPad – as an MP4 video onto a USB drive plugged into the base station, and streams mirrored video, over WiFi, to up to ten network-connected iOS devices.
The AirBridge Lite slims connectivity down to just HDMI and the 3.5mm audio-out, and supports cordless mirroring but no recording or ten-device streaming. As for the app, that can hook into cloud storage services like Dropbox, Box, and Skydrive, as well as authenticate via Facebook or LinkedIn. Altogether, up to 1080p HD resolution is supported.
Right now, AirBridge is compatible with all three generations of iPad and the iPhone 4/4S; mirroring requires an iPad 2, new iPad, or iPhone 4S. Given Apple is widely expected to switch to a new, smaller port as of the iPhone 5, the AirBridge team have made the docking connector modular.
Production is said to be possible within four months of funding completing – assuming AirBridge gets the ambitious $500,000 the company is looking for – with the round closing on October 20. A $99 pledge gets an AirBridge Lite once production starts; a $125 pledge steps up to the AirBridge Pro.