Aiptek MobileCinema A50P heads to Asia-Pacific users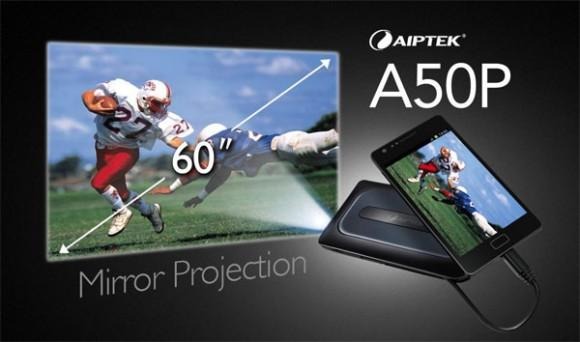 Android smartphone users in the Asia-Pacific area will soon be able to get a small pocket protector from Aiptek that is designed to work with their Android devices. The projector is called the Aiptek MobileCinema A50p. The projector comes with an integrated MHL cable making it plug-and-play compatible with Samsung, HTC, and LG mobile devices.
The projector uses DLP technology and has energy-saving RGB LEDs rather than a traditional bulb. Those LEDs promise up to 20,000 hours of lifetime and provide 45 lm of maximum brightness. The resolution of the projector is 640 x 480 and it can throw an image of up to 60-inches diagonally.
A resolution of 640 x 480 is a low for a 60-inch image, but it may be better than watching on a small screen for some users. The projector offers a contrast ratio of 1000:1 and no software is required to project media using the device. Power comes from an internal rechargeable battery good for 120 min. of use.
The projector requires a projection distance of 20 cm to 200 cm. The little projector measures 132 x 71 x 15 mm and weighs 170 g. The device has manual focus and features a micro HDMI and USB output. The projector also has an internal speaker for improved sound.
[via Aiptek]