Aiptek announces sub-$300 HD camcorder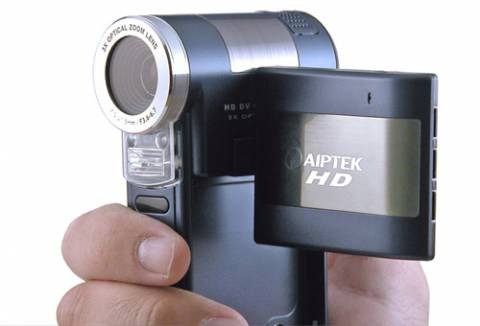 Do you love shooting video? I know plenty of people that love to walk around with a camcorder in their hands for no apparent reason. I tend to avoid those people as often as I can. But for those enthusiasts out there that want to get the most bang for their buck, you might want to check out Aiptek's new GO-HD.
The GO-HD is an incredible little camcorder. It can capture video in 720p widescreen at 30fps and cram up to 4 hours of footage onto an 8GB SDHC card thanks to the use of H.264 encoding. It also can take still pictures with a built-in 5MP camera, and has a 3x optical zoom. If you're shooting in a low-light area, the Night Shot mode will kick on the LED lights to brighten up the area.
While there are other cameras out there that can do just the same, they're considerably larger than this little guy. The GO-HD measures only 4.5-inches tall and 2.8-inches wide. I know people with phones that are almost that size. But if you thought that size was the biggest feature, think again. The sub-$300 price makes this one of the most inexpensive HD camcorder on the market.
Aiptek ships sub-$300 720p vidcam [via macnn]