Aigo N500 Maemo phone/MID hybrid hits China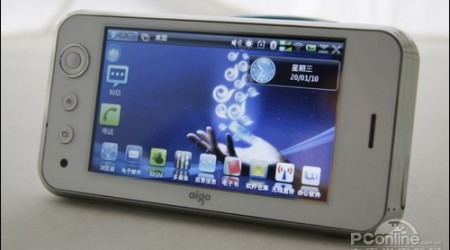 Unless you're a MID addict you may not have heard of Aigo, but with the company actually having shipped products rather than merely flaunted concepts we're liable to give them a little extra rope.  That makes this new MID – the Aigo N500 – particularly interesting, since it runs Maemo just like the Nokia N900.
It's also designed – like the N900 – to be used not only as a "portable computer" but as a phone.  Under the hood there's an ARM-based 806MHz Marvell PXA310+ processor running the show, along with 128MB RAM and 256MB ROM, while connectivity includes WiFi b/g, Bluetooth 2.0, 3G EVDO (obviously with voice and data support) and GPS.  You also get a 3.2-megapixel camera, a VGA webcam, 4.3-inch WVGA resistive touchscreen and a 2,600mAh battery.
That's all strikingly similar to the first non-Nokia Maemo device we saw, Optima's OP5-E, though Aigo have sensibly slotted some hardware controls onto the N500's front panel.  Most interestingly it's already on sale – albeit in China – for 3999 RMB ($586); Aigo devices have previously shown that they're capable of crossing over to Europe and the US, so we're quietly hopeful that the N500 will too.
[via Pocketables]